---
All You Need To Now
This year, we'll be returning to Taman Kuliner for dozens of delicious sessions spread across three food-fuelled days. Here is all you need to know to start planning your visit:
HOW CAN I GET TO THE VENUE?
We provide a shuttle bus that will take you from Ubud straight to the festival site. Our shuttle will be operating a limited service of a few trips per day.
There is limited parking around Taman Kuliner, so traveling by our shuttle bus from Ubud city centre is the best way to do so. There will also be lots of super visible signs directing you from the stations below to the grounds.
WHAT ARE THE OPENING TIMES?
Friday, 24 June, 9 am to 10 pm
Saturday, 25 June, 9 am to 10 pm
Sunday, 25 June, 9 am to 10 pm
WHERE CAN I FIND A MAP?
View the map below, or to download a PDF version of the festival map, click here.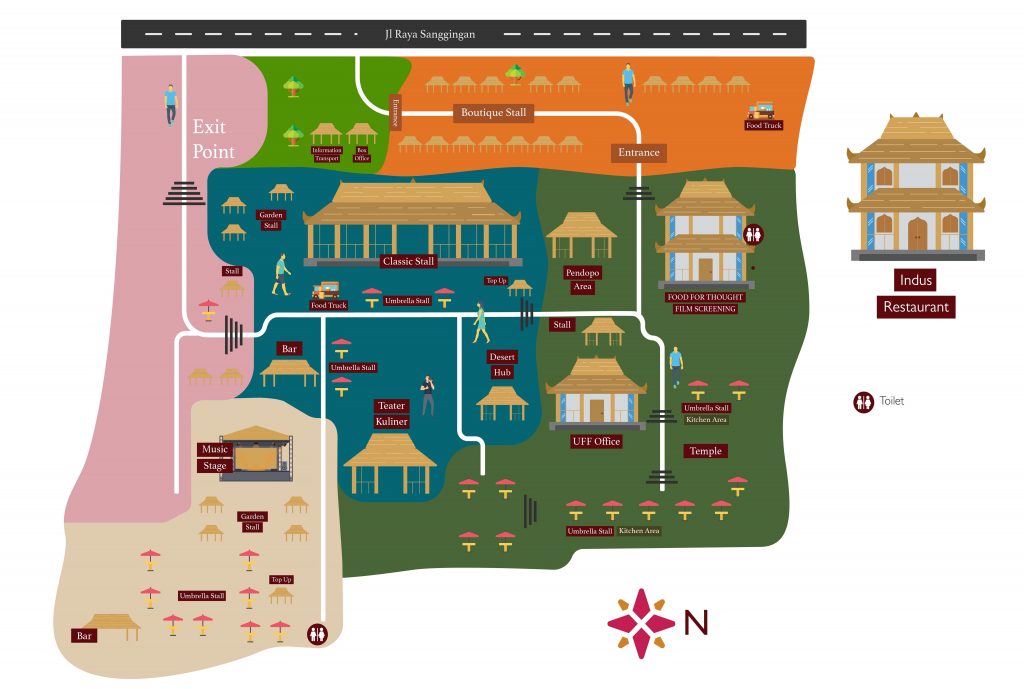 DO I NEED AN EXTRA TICKET FOR ANY SPECIAL EVENT?
To join our Masterclasses and Special Events, you need an extra ticket. Book your ticket in advance, as these sessions and events are usually in high demand. Have a look around the program, check out the times, and get your ticket here.
ARE THERE ANY FREE EVENTS?
Our in-person festival event is ticketed and is not free. With a Daily pass, you can choose between a vast range of delicious sessions spanning three days, such as our Teater Kuliner sessions, our in-depth Food for Thought discussion series, nightly film screenings, and much more.
WHERE DO I PICK UP MY WRISTBAND?
As a Daily pass purchaser, you will receive a wristband at the Box Office. The wristband can be collected at the onsite UFF Box Office at Jalan Raya Sanggingan in Ubud, Bali (View in Google Maps). You must provide identification and proof of purchase to collect your wristband.
For all Special Events, Masterclasses, Food Tours, and other ticketed events taking place outside of the Festival Hub, your ticket purchase confirmations will suffice (printed or displayed on your device). You do not need to collect any tickets for these events from the Festival Box Office.
Before heading to the festival, look at our FAQs here.