Accommodation
The following resorts and hotels have shown extremely generous support for our event by providing accommodation for the Festival's chefs and speakers.
We highly recommend these establishments to food lovers who plan to stay in Ubud during the course of the Festival. By doing so, you will both assist the Festival and local businesses. As a bonus, chance encounters with our guest chefs shall be your daily treat.
Stay with one of our valued Accommodation Partners from 13-15 April  and save 20% on FoodLover Passes. Send your booking confirmation to ticket@ubudfoodfestival.com and we'll send you a discount code to apply at checkout.
From budget, mid-range and luxury options, browse through our Accommodation Partners and get the special deal!
---
UFF18 Luxury Accommodation Partners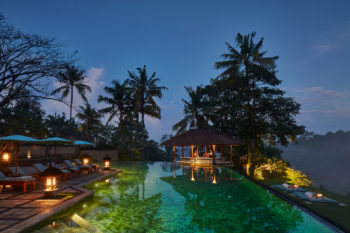 Amandari, meaning 'peaceful spirits', is located just outside Ubud, the cultural capital of Bali. Perched on an escarpment high above the meandering Ayung River Gorge in the village of Kedewatan, the resort instils a real sense of connection to its natural surroundings and cultural heritage. Amandari offers 30 thatched-roof suites, each with a private garden courtyard, a living area and wall-sized glass doors that open on three sides to lush surroundings. Eleven suites feature their own private swimming pools. Teak and coconut wood are used throughout the resort with detailed wood carvings showcasing the skill of local artisans.
Promotion : Get our special resident offer, contact pmuliartha@aman.com for more details
Address: Jalan Raya Kedewatan, Ubud 80571, Bali | Phone: +62361 975333 | Fax: +62361 975335 | Email: amandari@aman.com | Website: www.aman.com/resorts/amandari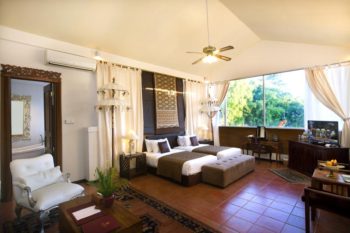 The Mansion Baliwood Resort Hotel & Spa is one of Bali's rare gems, situated in the artist community of Penestanan on the Sayan Ridge just a few minutes drive from the center of Ubud, the island's cultural center. Set in a tropical lush green park estate with water features and multiple pools, the resort offers 150 rooms, from Deluxe to Penthouse Suites.
Promotion: Get special resident rate, contact info@themansionbali.com for inquiry or book online through our websites using code uff2018. Explore more of our special offer here
Address: Jalan Penestanan 8-9, Sayan, Ubud, Bali | Phone: +62 361 972 616 | Fax: +62 361 972 632 | Email: info@themansionbali.com | Website: www.themansionbali.com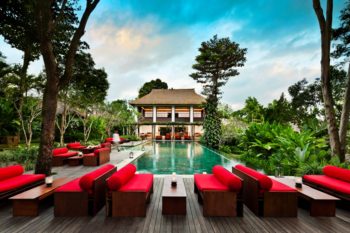 COMO Uma Ubud is a luxury central Bali hotel. The contemporary Asian design of our 46 rooms, suites and villas are relaxed, sunshine-filled spaces. Our restaurants, Kemiri and Uma Cucina, boast world-class cuisine while COMO Shambhala Retreat at Uma Ubud focuses on holistic wellness, with active pursuits including temple visits, biking and trekking.
Promotion: Check our special offer here
Address: Jalan Raya Sanggingan, Banjar Lungsiakan, Kedewatan, Ubud, Gianyar 80571 | Phone: +62 361 972 448 | Email: uma.ubud@comohotels.com | Website: www.comohotels.com/umaubud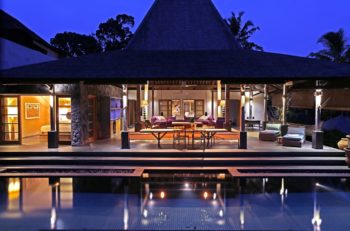 The Purist is a design-inspired oasis of calm. Seventeen luxury villas, most with swimming pools, complimented by a wellness center and poolside restaurant. Contemporary and Indonesian architecture is combined and styled with a valuable collection of fine textiles and artefacts. Designers Yvonne Hulst and Alberto Cortes, have created a spectacular villa resort, in harmony with nature on the Tawar river. Balisimo poolside restaurant honors the Slow-Food philosophy. Fresh organic produce by an experienced team delivers a collections of healthy, delicious, menus. Their well-trained Butlers are intuitive to guests needs, establishing the Purist Villas excellent reputation for superior, attentive service.
Promotion: Check our special offer here
Address: Jalan Tirta Tawar, Banjar Kutuh Kaja 80571 Ubud – Indonesia | Phone: +62361 974454 |  Fax: +62361 970949 | Email: info@thepuristvillas.com | Website: www.thepuristvillas.com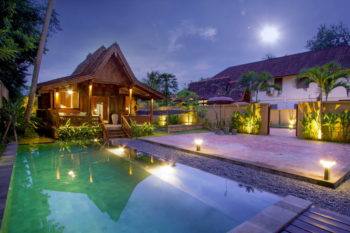 Puri Tupai is designed with the concept of privacy within traditional architecture which embraces modern features. It is the perfect discreet setting for romantics, friends, and families who are looking for a truly Balinese atmosphere and experience in complete comfort. We offer two styles of villa : one unit of Double Joglo Four Bedroom with garden, 25-meter pool and grass tennis court; and two units of Geladak One Bedroom Pool Villa. This offers our guests the sensation of a nuance of Ubud village life, combined with a balance of nature and spirits, from the island of the gods.
Promotion: Stay 3 nights, pay 2 nights only (valid for One Bedroom Pool Villa)
Address: Jalan Anak Agung Gde Rai, Br Lodtunduh, Ubud, Bali | Phone: +62361 981655 | Email: info@puri-tupai.com | Website: www.puri-tupai.com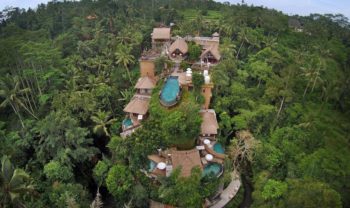 The Kayon resort is perched on Ubud hills side, surrounded with holy Petanu River and lush tropical rainforest gives a relaxing vibe. Kayon means tree of life creations and secret that grows from earth towards heaven. Located only ten minutes drive from Ubud center, this enchanting five star boutique resort is designed in complete harmony with nature. Decorated with Ramayana story relief on stone wall creates a romantic ambience.
Address: Banjar Kepitu, Desa Kendran, Tegallalang, Bali 80561 | Phone: +62 361 479 2553 | Fax: +62 361 479 2553 | Email: info@thekayonresort.com | Website: www.thekayonresort.com
---
UFF18 Mid-Range Accommodation Partners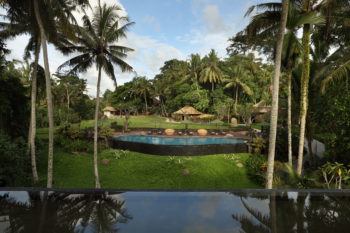 Plataran Ubud Hotel & Spa is a sprawling haven of tranquility located just off Ubud's main dining hub of Jalan Hanoman Road. Step from the bustle of the street into beautifully manicured gardens overlooking a stunning panorama of verdant paddy fields and a sacred temple that is aged more than 100 years old. Within this lush oasis resides a collection of 52 stylish rooms, suites and one private residence with options to suit all travellers, complemented by an exceptional range of facilities – two beautifully designed infinity pools, a luxurious spa and outdoor gym, inspiring meeting venues, and two restaurants offering gourmet Indonesian and Western cuisine.
Address: Jalan Hanoman, Pengosekan, Ubud, Bali | Phone: +62361 978340 | Email: ubud@plataran.com | Website: www.plataran.com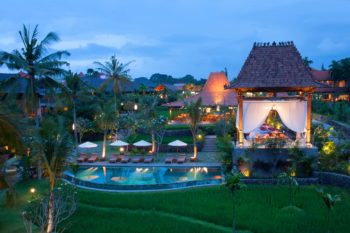 Alaya Resort Ubud is a boutique resort that is all about taking time out to enjoy quality relaxation in a stylish environment surrounded by natural beauty. With 105 luxurious rooms and supporting facilities, Alaya Resort Ubud has become a home away from home offering a distinct sense of belonging for leisure travelers from around the world. Strategically located in the heart of Ubud, the resort is built with rare sensitivity towards the surrounding environment. It shares rice terrace views with a number of local independent cafes and eateries. It offers warm hospitality and a distinct sense of belonging that is truly unique to the island of Bali.
Promotion: Use the code "Serenity" and book directly at www.alayahotels.com  to get our special price | Deluxe Room (Room Only) IDR 1,388,000 net/room/night | Deluxe Room (with Breakfast) IDR 1,488,000 net/room/night.
Address: Jalan Hanoman, Ubud, Bali 80571 | Phone: +62361 972 200 | Fax: +62361 972 210 | Email: experience.ubud@alayahotels.com | Website: www.alayahotels.com
Best Western Premier Agung Resort Ubud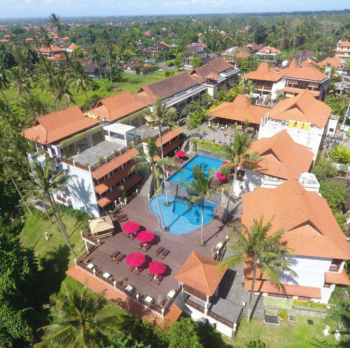 Best Western Premier Agung Resort Ubud is a new Sparkling Jewel offering best range choices of facilities and services to fulfill every guests' needs. Surrounded by green view, rice paddy, and clear water river, the hotel also offers an easines access to the best vacation spots in Ubud, ranging from the ancient Balinese temples, the famous art workshop, as well as historical museums, where Ngurah Rai International Airport is 90 minutes drive. Providing 75 rooms, each room is designed uniquely accompanied with a genuine Ubud atmosphere and view. In addition, the hotel is completed with Taman Nirwana Spa that represents the genuine Balinese traditional herbs, where the herbs are picked up from our own farm. Take a day off to pamper yourself with our unique treatment named KOZOBURO and enjoy the breezy day at our semi double deck swimming pool afterward.
Address: Jalan Sri Wedari No 99 Ubud, Bali 80571 | Phone: +62361 2091 700 | Fax: +62361 2091 748 | Email: reservation@bwpremieragungubud.com | Website: www.bwpremieragungresortubud.com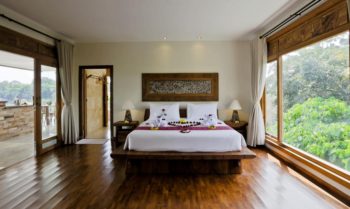 The bustling centre of town is a 15 minute walk from Sri Ratih. Where you can easily reach the restaurants, galleries, shops and all the city attractions. The rooms are tastefully decorated with of Balinese style furnishings, accented with unique pieces of traditional art. The bathrooms are spacious and well-presented with a modern tropical feel. Your luxurious bath will be equipped with a collection of natural products made from Bali's finest ingredients.
Address: Jalan Campuhan 1, Penestanan, Ubud, Bali | Phone: +62361975638, +62361976564 | Fax:+62361976550 | Email: sriratih@indosat.net.id | Website: www.sriratih.com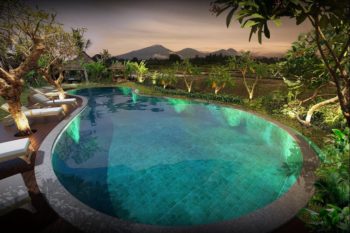 Adiwana Arya Villas is a stylish property that prides itself on offering a unique villa living experience by delivering gracious hospitality and service excellence. We have just 20 luxury villas, each 2 bedroom residence villa set within a Balinese styled private garden compound complete with a private swimming pool and outdoor leisure area. A personal Butler is assigned to anticipate guest's needs and ensure that they feel comfortably at ease throughout the duration of their stay.
Promotion: Special discount rate at 35% from published rate. Please contact experience.arya@adiwanahotels.com
Address: Jalan Raya Tebongkang, Singekerta, Ubud | Phone: +62361 3001158 | Fax: +62361 3001157 | Email: experience.arya@adiwanahotels.com | Website: www.adiwanahotels.com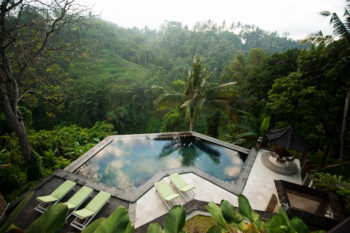 The Beji Ubud Resort is an enchanting and charming boutique hotel, set in the heart of picturesque Ubud at the junction of the Oos & Cerik River in the spiritual and cultural heart land of Bali. The hotel is located in close vicinity of Ubud centre and a stone throw away from Bali's famous NEKA Museum, beautifully blended with the contours of the hills lining the river valley providing unspoiled views of the opposite Sawah terraces and woodlands.
Promotion: Additional 15% discount for direct booking at www.bejiubudresorts.com for stay period of 01 April 2018 – 30 April 2018 | Promotional code: UFBEJI18 
Address: Jalan Raya Sanggingan, Ubud, Bali | Phone: +62361 971166 | Fax: +62361 971177 | Email: info@bejiubudresort.com | Website: www.bejiubudresorts.com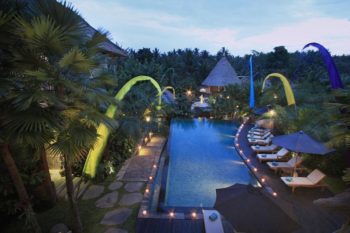 The Sankara Resort, spacious landscaped compound with local plantation, including flowers, Balinese Frangipani, Mangosteen, Coconut, Red Palm, many rare trees, is surrounded by the natural of environment with Balinese traditional village
Address: Banjar Kumbuh, Desa Mas, Ubud, Gianyar – Bali – Indonesia 80571 | Pax: +62 361 8493 515 | Fax: +62 361 8493 515 | Email: rm@sankaraubud.com | Website: www.sankaraubud.com
---
UFF18 Budget Accommodation Partners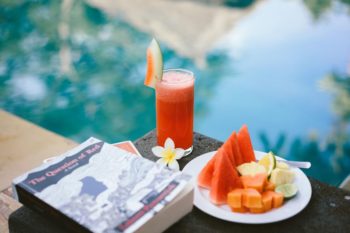 The Honeymoon Guesthouses are situated only a five-minute walk away from the heart of Ubud and Casa Luna Restaurant. We have 39 elegant Balinese style guest rooms set in lush tropical gardens. Breakfast includes fresh tropical fruit, homemade yoghurt, and freshly baked pastries and bread from The Honeymoon Bakery. Guests can also order delicious meals from the extensive menu of the Casa Luna Restaurant and from our Honeymoon Kitchen.
Promotion: 
LOCALS & KITAS HOLDERS. We offer a 10% discount to Indonesian nationals and KITAS holders. Valid upon regular seasons only.
EARLY BIRD RATE. 10% discount when you book 2 weeks in advance and 15% discount when you book 3 weeks in advance.
Address: Jalan Bisma Ubud, Gianyar (80571), Bali | Phone: +62361 973282 | Email: reservations@casalunabali.com | Website: www.casalunabali.com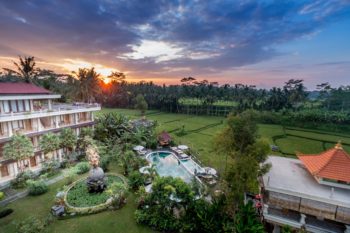 Om Ham means find the God within in you by inspiring your Atman (true-self) to feel happy and harmonious. This is the house of Kundalini Tantra Yoga, treatments, and retreat centre.
Promotion:
Happy Hour 20% Off for Bodyworks Spirit Spa at 10 AM – 2 PM valid March 1st – May 31st, 2018 for all treatments except Master Ketut Arsana's Treatments
Get 20% Off for any Espresso Field on Breakfast
Free Swimming for minimum purchase IDR 100,000,- perperson at Tulsi Dining & Lounge
Address: JalanTirta Tawar, Junjungan Village, Ubud-Bali | Phone: +62 361 9000 352 | Fax: +62 361 4792 658 | Email: info@omhamretreat.com | Website: www.omhamretreat.com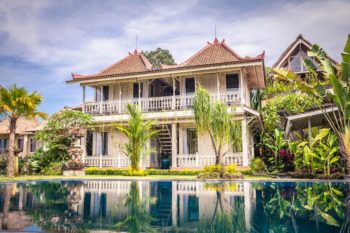 Boasting an infinity pool with views of the surrounding greenery, B Saya Villas is set in Ubud in the Bali Region. Guests can enjoy a meal at the restaurant. Free WiFi is featured and free private parking is available on site. Air-conditioned rooms at B Saya Villas have a terrace or a balcony. Certain units come with a dining area and a refrigerator. Every unit has a private bathroom, stocked with towels and free toiletries. Guests can approach the staff to arrange laundry service and tickets to local attractions. The property also provides airport transfer at a surcharge and free shuttle to Ubud Centre. You could also join the daily morning yoga at B Saya Villas.
Promotion: 50% discount from our published room rate.
Address: Jalan Suweta, Ubud,  Gianyar | Phone: +62 361 973496 | Email: info@bsaya.com | Website: www.bsaya.com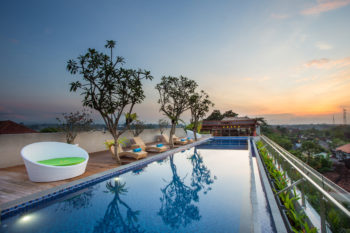 A combination of modern architecture design with pop art culture it is a popular choice amongst travelers in Ubud who are looking to explore or relax. MaxOneHotels.com @ Ubud enjoys a commanding position with just a 800 meters to Monkey Forest, 5 minutes to Ubud Market and 60 minutes to Ngurah Rai Airport. This hotel offers impeccable service to make your stay in Ubud unforgettable.
Address: Jalan Raya Pengosekan, Ubud, Gianyar Bali | Phone: +62361 3025555 | Fax: +62361 3025545 | Email: reservation.maxoneubud@gmail.com | Website: www.maxoneubud.com
Kori Ubud Resort, Restaurant & Spa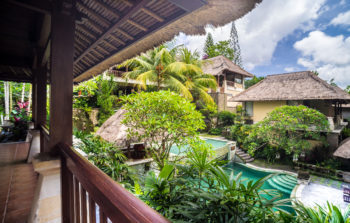 Set within a tranquil and luscious tropical garden, The Kori Ubud hotel is a peaceful, relaxing and revitalizing haven, over looking a sublime rice terrace view. Just over 1 hour from the airport and only a 4-minute drive from Bali's bustling cultural center of Ubud, the resort provides a perfect rural setting for an enchanting and nourishing retreat.
Promotion: 30% discount for early booking non business night.
Address: Jalan Raya Sanggingan Campuhan Ubud, Gianyar Bali 80571 | Phone: +62 361 972487 | Fax: +62 361 972486 | Email: sales@koriubud.com | Website: www.koriubud.com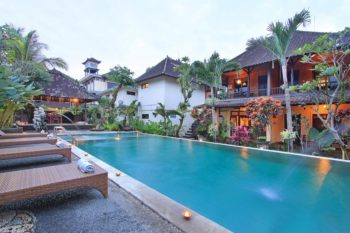 Ubud View Bungalows is situated in the center of Ubud only minutes walk from Ubud Monkey Forest, Supermarkets, Warung and cafes. Features seventeen dweling units Superior and Deluxe room in four of two storey cottages and cozy swimming pool with sundeck. Located in Jalan Sugriwa only 50 meters from Jalan Hanoman, Ubud View Bungalow is your home in a heart of Ubud.
Address: Jalan Sugriwa, Tebesaya 80571, Ubud – Bali, Indonesia | Phone: +62361 974164 | Fax: +62361 970440 | Email: info@pramanahotels.com | Website: www.ubud-view.com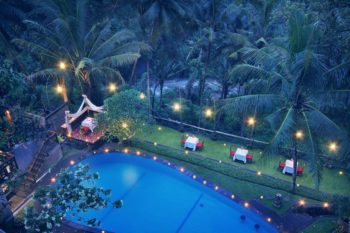 Bucu View Resort is a quiet retreat amidst tropical greenery, just 5 minutes' walk from the Monkey Forest and Ubud Art Market. It features an outdoor pool and a spa. The air-conditioned Resort come with a TV, mosquito nets, and a fridge with minibar. Each room has a private bathroom with hot water. Bucu View Resort offers free shuttle service within Ubud.
Address: Jalan Bisma, Ubud, Bali, Indonesia | Phone: +62 361 975976 | Fax: +62 361 975976 | Email: info@pramanahotels.com | Website: www.bucuviewubudbali.com