---
All You Need To Know
This year, we'll be returning to Taman Kuliner for dozens of delicious sessions spread across three food-fuelled days. Here is all you need to know to start planning your visit:
HOW CAN I GET TO THE VENUE?
We offer a shuttle bus service that will take you directly from Ubud to the festival site at Taman Kuliner. The shuttle operates every 30 minutes from 08:30 to 23:00, starting from Puri Lukisan – Taman Kuliner/Left Bank.
To beat the traffic, we also provide free electric bikes located at the Beji Ubud and Puri Lukisan Parking lots, as well as the parking area near the info ticket box.
WHERE CAN I PARK?
We have three parking lots available:
Across Taman Kuliner (car parking lot)
Left Bank (motorcycle parking lot)
Beji Ubud (central car parking lot)
However, we recommend using public transport to travel to the festival site.
WHAT ARE THE OPENING TIMES?
Friday, 30 June: 9 am to 11 pm
Saturday, 1 July: 9 am to 11 pm
Sunday, 2 July: 9 am to 11 pm
WHERE CAN I FIND A MAP?
View the map below or download a PDF version of the venue map by clicking here. For all the venues featuring our events during the three-day weekend, click here.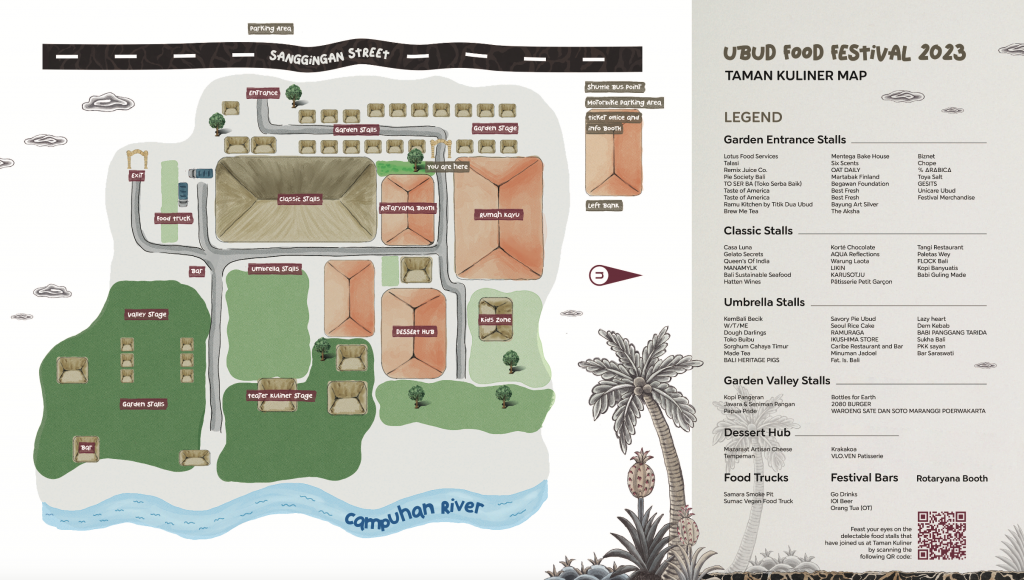 Make sure you're scanning the QR code to access all of this information of the venues in Google Maps.
CAN I CHARGE MY PHONE AT THE VENUE?
We'll provide charging stations for your phones, but it's recommended to bring a power bank for your convenience.
HOW CAN I REDUCE WASTE?
We take our environmental impact seriously and aim to reduce waste volumes, increase recycling rates, and improve resource management. Do your part by segregating the waste into the following categories:
Organic: Food waste and organic packaging
Non-Organic: Plastic wrap, cans, paper, plastic spoons, glass cups, plastic straws, etc.
Residue: Tissues, paper cups, paper bowls/boxes
WILL THE FESTIVAL BE AFFECTED BY BAD WEATHER?
We are well-prepared for the unpredictable weather in Ubud and know how to throw a party come rain or shine. Our festival venue at Taman Kuliner has many covered areas in case of rain. Our special events, masterclasses, and panel discussions are mostly indoors, with a few open areas that may be subject to weather conditions.
CAN I BRING MY OWN FOOD AND DRINK?
We're serving up the best food on the island, so you can leave the leftovers at home. However, we understand the importance of staying hydrated, so feel free to bring your own bottled water. You can also refill it for free at refill stations throughout the festival.
DO I NEED AN EXTRA TICKET FOR ANY SPECIAL EVENT?
To attend Special Events, Masterclasses, and Food Tours, you'll need an extra ticket. These sessions and events are usually in high demand, so book your ticket in advance. Check out the program, find the times, and get your ticket.
DO CHILDREN REQUIRE A FESTIVAL PASS TO ACCESS THE VENUE?
Children under twelve can join in without a ticket – as long as they're accompanied by an adult, of course. Children twelve and over require their own ticket, including the young at heart, but they must be accompanied by an adult.
ARE THERE ANY EVENTS FOR KIDS?
Our festival includes a family-friendly Kids Corner with exciting daily programs. Explore the child events on our website.
ARE THERE ANY FREE EVENTS?
Most of our in-person festival events require tickets and are not free. However, we do have a few free activities. Click here to learn more about the event and register for free.
---
If you have any questions regarding your tickets and festival passes, please check our FAQs here.