---
A journey into the heart of Indonesian cuisine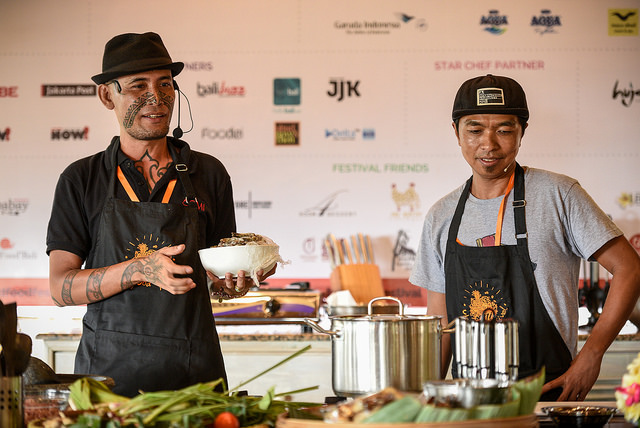 For an Indonesian cook whose nickname is Koki Gadungan (pseudo-chef), Rahung Nasution – or Chef Rahung (as he is better known) – has already managed to attract a substantial following around the country and region – especially in Ubud, where this year alone he participated in two of the biggest happenings on Ubud's annual cultural circuit.
At the inaugural Ubud Food Festival last June, he went wok-to-wok in a cook-off with renowned Malaysian accountant-turned-Chef Wan, each one whipping up their own version of Rendang (Rahung's won out); while at the 2015 Ubud Writers and Readers Festival, Chef Rahung's demonstration focused on the Batak delicacies of his native village in Northern Sumatra.
While a Balinese assistant tended to a fragrant mixture simmering in a wok, Chef Rahung ran through a list of tropical ingredients that were being added in, each an essential component of his Bataknese culinary fare: galangal, ginger, lemongrass, some lemon and andaliman (Szechuan pepper), roasted candlenut, coriander and coconut oil. Then again, he's unafraid to step out of the strictures of his culinary tradition. "Normally in Batak cooking," says Nasution," we use pork. But this one is beef. People in some places, like Manado, eat dog too. But I'm trying to educate them about that."
As a self-taught chef, Rahung is also trying to educate Indonesians about the importance of preserving the country's unique culinary heritage and celebrating the distinct flavors and spices of regional dishes. Indeed, Rahung considers his mission to be the sharing of knowledge that he has gained on a journey of culinary discovery around Indonesia.
As if a bridge between the past and present, Rahung maintains that food that is cooked today is – and should be – inseparable from its past. "It's part of our oral tradition from our grandmothers and mothers. Indonesians don't want to cook anymore. If Indonesians don't learn from their mothers and grandmothers, or in school, we will lose this knowledge and heritage."
Rahung is quick to credit his own mother with instilling an appreciation for local flavors – and the cooking skills that have served him well. "When I was a little kid, my mother had to leave home at six in the morning," says Rahung. "So she prepared our breakfast before going to work in the rice fields. My father also worked at a rubber plantation; then he went fishing and brought home the fish."
As the eldest of five children, 41-year old Rahung was, from a young age, saddled with the responsibility to ensure food was on the table. "For dinner, we couldn't wait for my mother to come home so she taught me to cook. It became a habit." A habit that would lead him to venture further afield – far from his home and culinary roots.
At the age of fourteen, Rahung set out alone on a voyage of discovery. In the merantau tradition of his Sumatran (including Batak tribal) ways, he left home to travel, seek experience and success. "I didn't want to be a farmer because I saw how hard it was for my parents. It was a nightmare for them, and I didn't want the same for me. So I left to find a new life."
Rahung soon found himself living a hardened life on streets of Jakarta,  where he was homeless for a time. He reached Yogyakarta, where he befriended and lived with students from around Indonesia. They traveled and cooked together. From his fellow students and friends, he learned more about dishes from far off islands and regions.
He continued to travel, soaking up more culinary experiences along the way. "I had the opportunity to learn from other kitchen moms. I went to Maluku, to Toraja, to Papua. Everywhere I went, I was invited to stay. That's how people's homes and kitchens became my university."
Rahung traveled far and wide, absorbing the richness of local tastes and styles. Mentawai island, bordering the Indian Ocean, remains one of his favorite destinations.
He was also captivated by the Dayak tribe in Borneo: "The Dayak people live in the forest. Their food and way of life is still like the traditional way of life. Their forest is like a big supermarket.  All their ingredients come from there and their food is not heavily influenced by other cooking as it is in other regions. The forest still seduces them."
His travels among the Dayak and his training with the kitchen moms, filled him with a sense of pride about indigenous dishes and spices. It also made him recognize the widespread lack of knowledge, the homogenization and incursion of Western foods into his country. Rahung's contention is that the Indonesian people and the government have turned a blind eye to these problems.
"In the West, there is a long tradition of food as culture and science. But here, in Indonesia, the richest country in the world with a culinary tradition – there are no cooking schools. There is no other country in the world with 500 tribes, 500 different ethnic groups, each of which has its own rich culinary history and tradition."
A sense of ignorance and lack of interest among Indonesians is troubling to this passionate chef. "They don't know what I'm cooking, they don't know where the ingredients come from, their own traditions. Today, people go to tourism school where they only learn the basics of western cooking. This is a serious challenge for our country."
So Chef Rahung is on a self-guided mission to change the status quo. "Food is our identity, so we should celebrate its diversity. We have to teach where the food comes from, the tradition and philosophy of the food; the importance of developing a vision."
Where to start? His goal is to transfer the knowledge and pride where it will make the most impact – to the youth of Indonesia. "Children should be learning about the origins and traditions of the foods that they eat at home," he says.
Ever the vocal enthusiast, Rahung proposes a paradigm shift: "The government should add food culture into the educational system, integrate food into the curriculum. Like the Balinese language. An understanding of the roots of our culture includes food. We shouldn't ignore it."
To Rahung, this lack of awareness is perilous because it overlooks a pivotal era in his country's history. "The way Indonesia became a nation, comes from the era of the spice trade. With colonization and religion, the Arabs,  the Chinese, even the Persians, all came here, looking for nutmeg and cloves. That monopolized the spice trade in Banda Neira and Maluku Islands. Without Banda (the origins of nutmeg  date back to the first VOC headquarters in Nusantara, after the great massacre of 1621 by Jan Pieterzoon Coen), there would be no Indonesia."
Although Rahung firmly believes in keeping the roots of Indonesian cooking alive, he is practical and progressive enough to break the rules. "I believe that traditional cooking has to improvise and innovate. I add oil even if in Batak we don't use it." Innovation, notes Rahung, is the key to ensuring the preservation of food heritage of Indonesia.
Mindful of his connection to the past, in 2014, after an absence of 15 years (sparked by the merantau), Rahung returned home to celebrate the Muslim holiday of Eid Ul Fitri with family and friends. "If you come back to your family, it must be for a special reason – say, a holiday – and you have to have a position in society, career, money or wife. Doctor or teacher. Even if I wasn't married, I earned the right to go back because I had a profession."
In the years away from home, Rahung earned much more than a career. He'd developed a form of political activism borne of a deep respect for the richness of Indonesian culture and tradition. And together with his enthusiasm for engaging on social, cultural and political levels, he found a mode of expression that bridged his views about food culture and society – in tattoos. As he once said, "If my tattoos are a political attitude, then cooking is a political action."
If every plate of food tells a story about his people and country, then Rahung's tattoos tell a similar tale – tinged with the power of resistance. Hidden away under his trademark flat cap (or, in other sightings, a black fedora cap), is a drawing of a mythical dragon. "This is the symbol of Mangala Bulan, the Batak god of destruction." On his arm is a calligraphic rendering, in Batak script, of "the ancestral name of my family clan."
Not satisfied with the markings of his own tribe, he had etched into his face those of the Papuan Koita tribe. "It's a political statement, because the Papuans are suffering. Their land is exploited and there is no school for the children. We destroy their land and society. This is my act of sympathy, so I'm a Papuan too."
His identification with the disempowered and marginalized extends to other tribes and regions of the archipelago. "This tattoo is from the Dayak tribe that live in the West Kalimantan forest. Most Dayak no longer live on their ancestral land, because they were forcibly removed. So they lose their supermarket, their rice fields and identity."
While matters of identity, history and culture are among the forces that drive Rahung's advocacy and deep-seated appreciation for his country's traditions, this outspoken chef continues to expand his own knowledge and experiences through adventures far and wide.
A recent trip around the spice islands – Banda Neira, Seram, Ternate, Tidore and Halmahera – gave Rahung more time to delve more deeply into the history of the island spices and the influence of Chinese and Arab traders. The collection of stories and spices will be used for a project called Di Ufuk Timur, comprising videos and local recipes for digital media programs and for Foodventure, a culinary travel show hosted by himself and Noha Almadani.
If Chef Rahung's name is not yet well-known in the home of every food-lover or culture hound in Indonesia, without a doubt, it ought to be.
This story was originally published in the Bali Advertiser, a media partner of the Ubud Food Festival.