---
Chatting with Penelope Williams of Bali Asli
Meaning 'real' or 'authentic' Bali, Penny Williams' establishment Bali Asli is a, "dream come true" for the chef who apprenticed at the Savoy Hotel in London, before going on to sharpen her skills in the kitchens of Restaurant 41, Boathouse and Bather's Pavilion. Now calling the Gelumpang village of the Karangasem regency home, Penny will be joining Ubud Food Festival for a Cooking Demonstration on June 7… one that is sure to deliver the very essence of the Island of the Gods.
What inspired your move to Bali?
I was offered a job as executive chef at Alila Manggis in Candidasa, until then I had no plans to come to Bali, and I had never been to Bali before this time either.

What is your favourite local ingredient, and dish?
There are so many of them I do not have a favourite, anything that is fresh and still moist from the dew of the morning gets me going!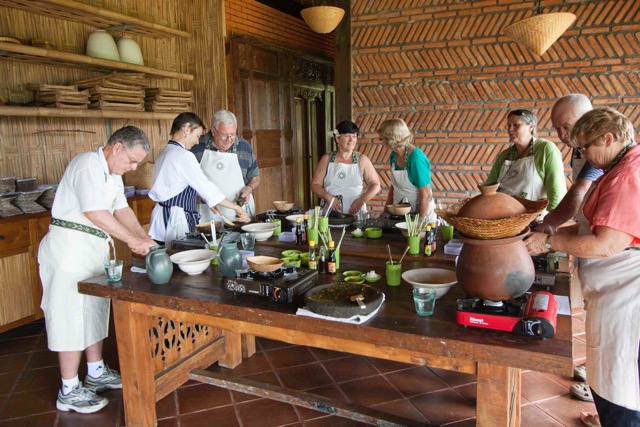 You also run a cooking school. What motivates you to pass on your knowledge?
I love the culture and think that it is important to share it with visitors so they understand it too. I would hate for the Balinese cuisine and culture to get lost like so many others on the world.

And what is the best piece of advice you've been given regarding cooking?
Think before you move.
We're very excited to have you joining us in Ubud for UFF. Can you share a bit more about the dish you will be preparing, and why you chose it?
My team and I will be preparing a dish called tipat mesantok, using peanut sauce the traditional way it is use in Bali. Traditionally peanut sauce is never served with sate. The sauce is used as a dressing for steamed garden greens and rice cakes that have been cooked in palm leaf parcels.
Finally, what's your favourite guilty pleasure or comfort food?
I could eat Abug (a traditional Balinese coconut sweet) until the cows come home!
Smell and taste your way through traditional Balinese cooking firsthand at Penny's Cooking Demonstration, buy a ticket here.