---
Chatting with Wanderbites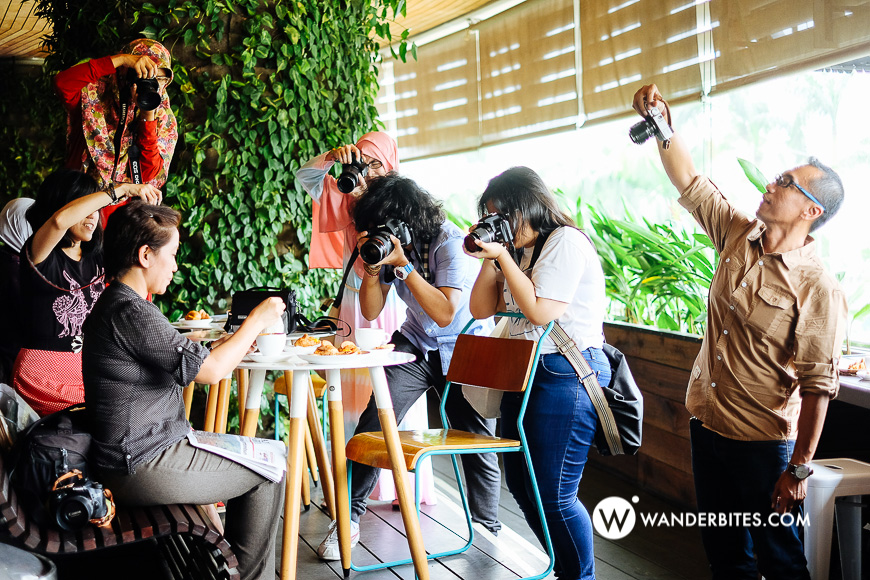 This social media wunderkind trained in marketing but dreams of opening his own eatery … maybe even even Indonesia's own Culinary Museum. With a passion for food – and coffee! – and an aptitude for photography and navigating the digital space, Fellexandro Ruby or Wanderbites as he is known round the socials is definitely one to watch. We chat to him ahead of his Photography Workshop (sold out), and appearance on the free Food Forum Talking Street Food.
Was there any specific moment in your life when you realised you could appreciate food as more than just something you eat?
No. I can't think of a specific moment. It was more of an accumulation of things. After doing food photography for so many clients, being in the kitchen and understanding how a restaurant works, being exposed to fine cuisine as I travelled abroad, seeing how French Laundry grow their own produce to have the best ingredients, and many other experiences, all these take part in shaping the way I appreciate food now.
A similar question, was there a specific moment when you figured – and decided – that you could make a profession out of food blogging? Who and what is your inspiration?
Yes there was. But I don't consider my profession to be blogging. I consider myself a professional food photographer. My inspiration in the early days of my career was Matt Armendariz of MattBites.com. The bites in Wanderbites.com is stolen from him. Then along the way I found my style skewed toward the works of Katie Quinn Davis of WhatKatieAte.com.
I'm always a believer of passion. I believe that where your passion meets the needs of the world, that's your purpose. So coming back to your question on a specific moment, it was when I showed the world what I could do and they responded with projects from one client to another.
What do you think about the food blogging scene in Indonesia compared to other countries? What's left to explore in terms of creativity?
It's funny how food blogging is so different in Indonesia compared to in the US, Australia, or other places outside Asia. Here most of the popular food bloggers are the ones who review restaurants. Out there most of the popular ones are the ones who cook and share recipes. I look forward to seeing more of the latter version of food bloggers in Indonesia.
Why do you prefer to be called a "food storyteller"? And what food tells the most about your life? 
Its a two part answer.
One, it's partially because I've grown out of liking the terms food blogger, food reviewer, food critic. I'm merely sharing my stories. If people can relate with that, then feel free to enjoy my journey with me. If they don't that's okay too. I don't consider myself an expert that allows me to proclaim myself as a critic or reviewer.
Two, I think the fact that I live from food is a story in itself. Further than that, there's so much more little moments related to food that I can share, but let me put it this way. Think of moments that happen on a table as we enjoy our food. Tonight, a lady might have received a proposal over dinner. Tomorrow, a young chef was born because of spending so much time with his mom in the kitchen. Another day a business man sealed a deal while on a lunch meeting. Nat Geo sums it well:  "Food is more than survival. With it we make friends, court lovers, and count our blessings."
We read your favourite food is cheese martabak, what are the runner ups? Can you perhaps give me a top five (and why) from all over Indonesia?
On Martabak, first in line is Martabak Asan in Bandung.
The runner ups are Bakmi Bagan Tua Bak, Kue Biku Talago Bukittinggi, Nasi Kuning Manado, Nasi Krawu Gresik, and many more.
What are your favourite restaurants and why? And where is the best place to eat in Indonesia?
I can't say favourite, but I can say most memorable. There's a few: one is The Tippling Club by Ryan Clift [also appearing at Ubud Food Festival]. I was lucky I tried them while they were still at Dempsey, the woods really added to the experimental nature of their establishment. Not only the food was splendid. But it was also where I had my first date with my girlfriend. Another one would be Aux Trois Elephants in Paris and Heston's Dinner in London.
For the best in Indonesia according to my limited experience, I'd vote for Namaaz Dining. Chef Andrian Ishak makes us proud with his molecular, gastronomic renditions of Indonesian food. Been there twice and the experience is one -of-a-kind.
What do you think about Ubud Food Festival? What's your involvement and what are you going to bring to the event?
I'm always excited when it comes to food and festivals. Especially in Ubud Food Festival's case, its not only about eating but also having meaningful conversations on interesting topics. I probably look forward the most to that. Sessions by chefs especially. Oh and definitely my food photography session. I can't wait to make stunning images together with the participants.
Do you cook yourself? If so, what's your favourite dish to make?
Used to. Not so much now. I like simple food. My favourite cookbook is one with over 100+ recipes that use four ingredients or less.
Catch Fellexandro at his Food Forum Talking Street Food, 11:30am on Friday June 5.