---
Indonesian Superfoods: Coconut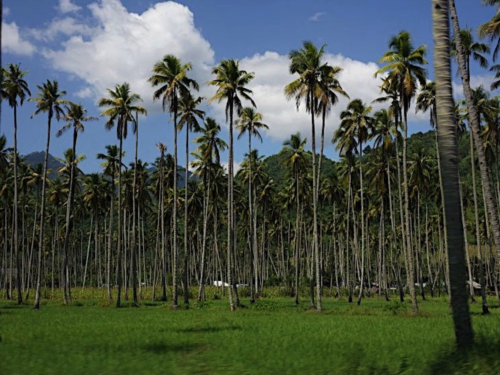 The Western world has gone crazy for coconuts, which have been consumed and utilized in countless ways across equatorial regions for centuries. There are now more than 50 coconut products and its derivatives traded widely across the globe – coconut oil, butter, flour, milk, water, flakes, vinegar, and sugar products have emerged from boutique health food stores to line the aisles of supermarkets. Indonesia is the world's biggest producer. So far in our Indonesian Superfoods series culinary experts have shed light on 'new superfoods' tempeh, jackfruit and cassava, which have long been Indonesian staples. We're now sipping es kelapa mudah (iced young coconut water) with Indonesia's Ambassador to the World Food Travel Association Ibu Amanda Katili Niode, so she can crack open the coconut craze.
Ibu Amanda, what are the nutritional benefits of coconut? What makes it a superfood?

Coconut (Cocos nucifera) is high in energy, fibers, vitamins (C, E, B1, B3, B5, and B6), and minerals (copper, calcium, iron, manganese, magnesium, and zinc). It contains lauric acid, a saturated fatty acid that increases good HDL cholesterol levels in the blood, preventing blockages of blood vessels. Clinical trials indicate the benefits of coconut for reducing the risk of chronic disease and treatment of numerous diseases such as diabetes, cancer, psoriasis, brain malfunction and high blood pressure.
Coconut water consists of simple sugar, electrolytes, minerals, and bioactive compounds such as cytokinin, and enzymes such as acid phosphatase, catalase, dehydrogenase, peroxidase, and polymerases. These enzymes help in digestion and metabolism. Research shows that cytokinins in coconut water have significant anti-ageing, anti-carcinogenic, and anti-thrombotic effects.
Indonesia is the world's largest producer of coconut. Where are the major areas of production, and what are some of the most popular cooking methods in these areas?

The largest coconut producers over the years are the provinces of Riau in Sumatra, North Sulawesi and East Java. In Sumatra, coconut milk (the liquid that comes from squeezing the grated meat) of a mature coconut is an important ingredient in many cuisines, including rendang, caramelized beef curry from West Sumatra; gulai belacan, large shrimp cooked in Riau spices; gulai ikan patin, curried catfish from Jambi; and pendap, mackerel with herbs and spices wrapped in banana leaf from Bengkulu.
In Sulawesi, in addition to coconut milk, toasted coconut is a distinct ingredient in some of its dishes. Nasu likku, a chicken dish from Makassar, South Sulawesi, is made from chicken, galangal, tamarind, lemon grass and toasted coconut. Tabu moitomo is a black beef soup from Gorontalo that uses more than 30 herbs and spices with toasted coconut as its main ingredient.
In East Java, shredded coconut is used in some of its snacks. Ketan intip from the City of Ngawi is made from glutinous rice, coated with soybean powder and coarse shredded coconut. Berdapan is a traditional snack with a unique shape made from grated cassava stuffed with coarsely grated coconut cooked with palm sugar and pandan leaves. Madumongso is a sweet snack in Madiun, made from black glutinous rice, coconut milk, sugar, and shredded coconut, wrapped in colorful paper.
Are there any environmental concerns surrounding coconut production?

Cocos nucifera is found in all tropical and subtropical regions. It grows in many habitats at 0–600m near the equator. The environmental concern surrounding coconut production is the use of excessive pesticides in coconut plantations. Also, the expansion of coconut growing regions by cutting trees in primary forest will increase carbon emissions, the major cause of global warming. Monoculture coconut plantations that replace native plants and biodiversity can take a major toll on the soil, making farmers use chemical fertilizers to boost productivity.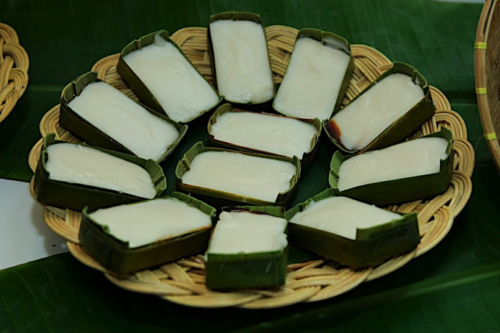 Global demand for coconut products – particularly coconut water – has increased enormously. How can Indonesia take advantage of this?

There are now more than 50 coconut products and its derivatives traded widely around the world. Among the food and drink products are coconut oil, coconut butter, coconut flour, coconut milk, coconut water, coconut flakes, coconut aminos, coconut vinegar, and coconut sugar.
The Indonesian coconut processing industry is facing difficulties keeping up with demand. One of the problems is an increase of fresh (unprocessed) coconuts exported from Indonesia. International buyers purchase coconuts directly from small holder plantations at high prices. It is harming the coconut processing industry as local manufacturers are unable to compete in acquiring raw materials.
Coconut productivity is determined by the average age of the coconut tree. Data shows the number of old coconut trees in Indonesia is increasing, hence their productivity is declining. In addition, coconut crop land in Indonesia decreased by 10% in 2015 compared to the previous year.
To take advantage of global demand for coconut products, the Government of Indonesia is implementing policy measures, including the rehabilitation of monoculture plantations, the revitalization of coconuts in various areas with high-yielding coconut varieties, and the expansion of coconut growing regions.
This policy will be supported by the development of palm seedlings, partnerships between growers and the processing industry, coconut pest management, and the management of diseases or pests affecting coconut, and the provision of supporting facilities such as post-harvest equipment and low interest credit.
What is your favorite way to enjoy coconut?

In Gorontalo, the land of my ancestors on the island of Sulawesi, most of its traditional foods are coconut-based, either cooked with bongo dilangato (freshly grated coconut), hulango bongo (coconut milk) or yinulo (homemade coconut oil). Coconuts are useful for condiments, appetizers, snacks, main courses, desserts and drinks.
My favorite way to enjoy coconut is binthe biluhuta, the most well-known Gorontalo dish. It is a traditional corn soup made from corn kernels, freshly grated coconut, shrimp or tuna, lemon basil leaves, shallots, salt and lime. It can be made into a vegetarian dish by omitting the shrimp or tuna, or tofu can be added as a protein source.