---
Recipe Archive // Kitchen Stage: The Poster Girl of Peranakan Cuisine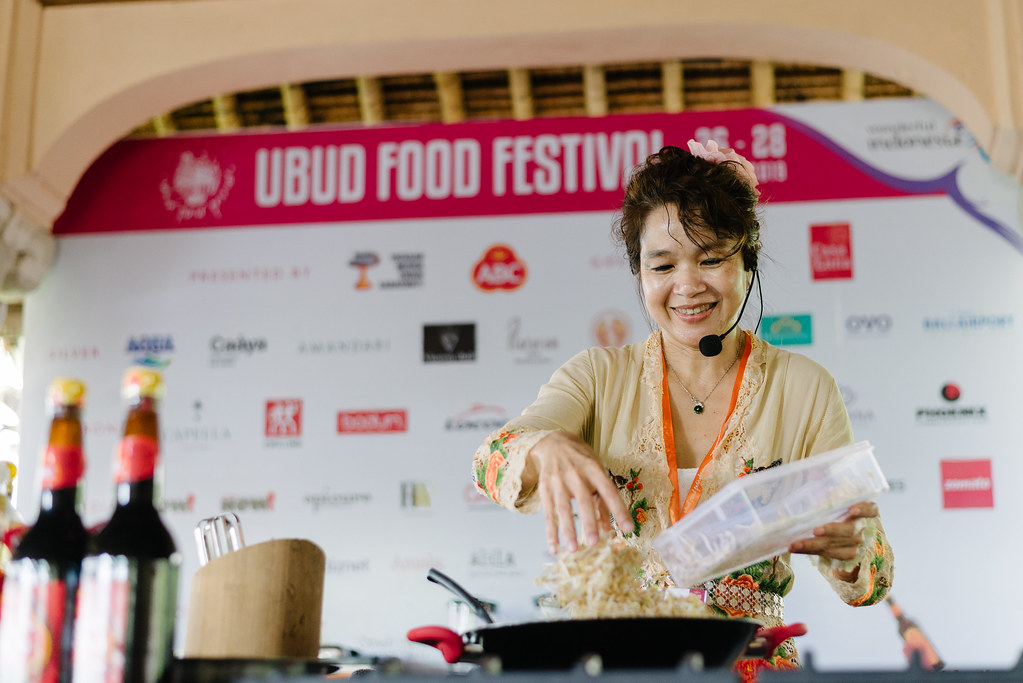 Since Ubud Food Festival first launched in 2015, we've had countless of chefs and culinary figures joining us on our cooking demo stages, Kitchen Stage and Teater Kuliner. To refresh your memory on the fun and endearing Festival experience, we would like to share some of the best recipes from those stages that you can try at home.
Today, we are bringing you back to Debbie Teoh's stage at UFF19, The Poster Girl of Peranakan Cuisine. A true Nyonya – her father is a Baba from Malacca and her mother is a Nyonya from Penang – she has published seven renowned cookbooks. At this Kitchen Stage she cooked multiple Nyonya dishes, with one of them being Kerabu Jantung Pisang.
Kerabu Jantung Pisang
Ingredients:
1 banana flower
150 g medium prawns, shelled
2 big onions, sliced
100 ml thick coconut milk
5 Tbsp calamansi limejuice
3 heaped sambal belachan
Bunga kantan, sliced for garnishing
Methods:
Cut banana flower into half, lengthwise.
Cook with sufficient water for 20 minutes until cooked.
Discard the outer layers to reveal the tender pink core.
Slice about 1cm thick pieces.
In a small pan boil coconut milk with prawns.
Remove, then add in sambal belachan, sugar & salt to taste.
Mix the banana flower & garnish with bunga kantan.
If you are making this recipe at home, don't forget to share on social media and tag @ubudfoodfest to get it reposted.