---
Recipe of the Week | Pelecing Kankung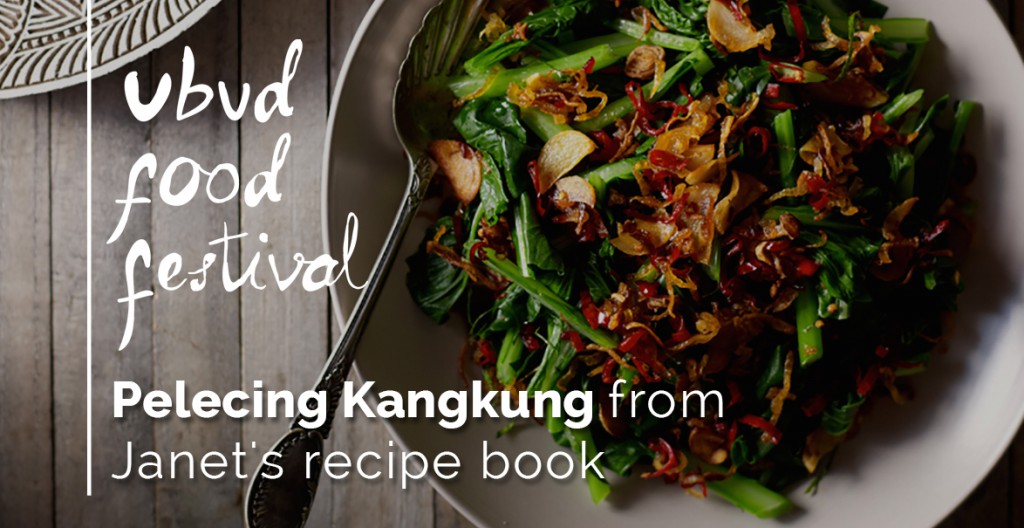 You haven't arrived in Indonesia until you've eaten kangkung! This very popular leafy green on tall hollow stems and with narrow, pointed leaves is bursting with iron, calcium and mega-doses of tryptophan, which is known to nudge you into a delicious slumber and also promise a night of happy and hopefully romantic dreams. The flavour of kangkung is similar to English spinach and is especially divine mixed with tomato and shrimp paste. This dish just about sums up the essence of Balinese food: rustic, charming and implicitly good for you.
Ingredients
Kangkung
200 g water spinach, cut in half (or english spinach if unavailable)
1 teaspoon sea salt
2–3 tablespoons oil
3 kaffir lime leaves, rolled into a bundle and finely shredded
2–3 tablespoons fried shallots, plus extra to garnish
3 teaspoons kecap manis
lime wedges to serve
Tomato Sambal 
5 shallots, roughly chopped
8 garlic cloves
3 long red chillies, seeded and roughly chopped
2–3 small red chillies, roughly chopped
3 medium tomatoes, roughly chopped
3 candlenuts
1/2–1 teaspoon shrimp paste
sea salt
Method
Put the spinach in a saucepan and add the salt and enough water to cover. Bring to the boil and cook for 3–4 minutes, or until the stems are soft. Drain and set aside.
To make the sambal, pound the ingredients to a smooth paste in a mortar, or blitz in a food processor.
Heat the oil in a wok over medium heat and fry the sambal until reduced by almost half and the oil has risen to the surface. This will take at least 5 minutes.
Remove from the heat and leave to cool.
Mix the cooked spinach, lime leaves, fried shallots and kecap manis with the sambal either in the hot wok or in a separate bowl, as is the tradition. Pelecing actually means to mix by hand. Taste for a good balance of flavours. Top with more fried shallots and serve with wedges of lime.
Serves 4–6