---
UFF17 Volunteer Stories: Ethan Tjonnadi
Over 80 volunteers helped keep the wheels turning at UFF17 in almost every area of the Festival, from registering journalists in the Media Center to introducing sessions and speakers as MCs. In our Volunteer Stories series we'll hear from them about their Festival experience, and all the tasty treats they tried along the way! This week we spoke to Ethan Tjonnadi, a new volunteer who helped keep the Kitchen Stage in order.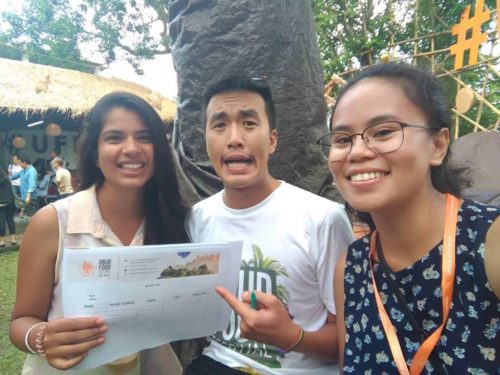 Ethan, what was the most delicious thing you ate at UFF17?
The most delicious thing I ate was probably the rice boxes provided for us at Volunteer Base Camp, especially on the second day of the Festival. If I'm not mistaken, it was the chicken with sambal matah and it was amazing! But if I had to choose something from the Festival itself it would be the shitake skewers from La Ramona!
What was the most memorable moment of your UFF17 volunteer experience?
The most memorable moment would be when Ochie and Yola, the volunteer coordinators, suddenly called me to the basecamp at the end of my shift on the first day. I thought I was in big trouble for some reason, but I ended up being made a supervisor for the Festival Hub area. It was my first time volunteering of any kind and they caught me off guard, so at that moment I was very confused. Thankfully, I had a wonderful and experienced team that made my duties a piece of cake! I want to give a huge shout out to my team Martha, Gladys, Ayu, Hannah, Wanda, Rio, Bayu, and Ananto for their great efforts and excellent teamwork!
What did you learn at UFF17?
First of all, teamwork and communication between team members is essential. There were a lot of things going on at the same time, and this taught me to be more flexible and make use of any resources available. It taught me how to think fast and operate in an organized way (I am not the most organized person). It also taught me how to work with team members in a fast-paced situation.
What would you say to someone who is interested in volunteering for the first time at UFF18?
I would tell them to sign up for it straight away and that they won't regret it! The experience you get, the friends and colleagues you meet, the food to try, and definitely the Closing Party at the end makes it all worth it. I would tell them that they'll see me there as well because from now on, as I will always come back to volunteer when I have the chance.