---
What to eat in… Medan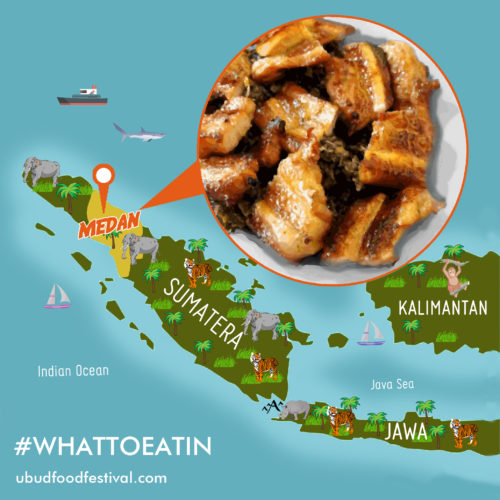 While Bali is famed for its babi guling (roast suckling pig), many other Indonesian cultures also pride themselves on their porcine cuisine. The Batak Karo ethnic group of North Sumatra have a penchant for piquant roast pork. Babi panggang Karo (usually abbreviated to BPK) is marinated in lime juice, lemongrass, garlic and kecap manis before charcoal roasting. It's accompanied by sambal darah – a thick, rich, earthy sauce with twin star ingredients: Andaliman pepper (closely related to Sichuan pepper, it has lemon and pandan notes), and pig's blood. Don't be put off by the latter – it really is a delicious mix and essential Batak flavor.
Where to try it: Ola Kisat, deep in the Old Town of Medan. Jalan Jamin Ginting No. 839, Beringin, Medan Selayang.
—
Bukan hanya Pulau Bali yang terkenal akan hidangan babi seperti babi guling, banyak juga daerah lainnya di Indonesia yang memiliki hidangan khas dari babi. Suku Batak Karo di Sumatera Utara contohnya, yang mempunyai hidangan babi panggang Karo yang biasa disingkat BPK. Jeruk nipis, sereh, bawang putih, dan kecap manis adalah bahan yang dipakai di dalam bumbu rendaman BPK sebelum dipanggang. Biasanya hidangan ini disajikan bersama sambal darah yang terbuat dari cabai Andaliman dan darah babi. Penambahan darah babi ini uniknya malah menambah kelezatan dari BPK.
Coba BPK dari Ola Kisat yang berlokasi di kawasan kota tua Medan, Jalan Jamin Ginting No. 839, Beringin, Medan Selayang.