---
Indonesian Superfoods: Cassava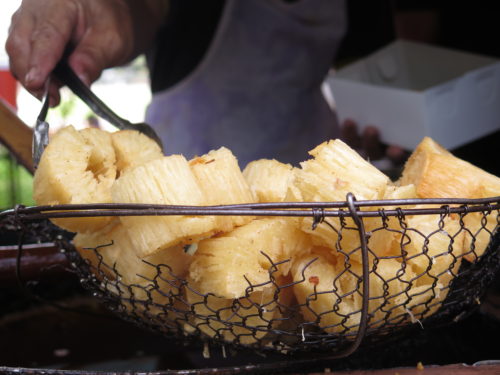 The Huffington Post recently praised cassava as a "hidden superfood". Indonesia, however, is one of the world's largest cassava producers, so this versatile root vegetable is the very opposite of invisible. It is consumed across the archipelago and prepared in countless different methods, while its leaves are often cooked as a nutritious side dish. We treated ourselves to a box of singkong goreng (deep fried cassava) with one of Indonesia's most celebrated culinary experts, the renowned food writer and restaurateur Bondan Winarno, while discovering more about this scrumptious, wholesome and important Indonesian staple.
Pak Bondan, what are the nutritional benefits of cassava? What makes it a superfood?
The most important nutritional component of cassava is Vitamin K, which promotes the building and development of bone mass, and prevents Alzheimer's. Cassava also contains a lot of vitamin C, promotes collagen production which improves skin condition, it is rich in fiber, antioxidants and saponin. If eaten consistently, cassava can reduce inflammation and has the ability to lower blood pressure. Cassava also has other characteristics that can be exploited by the health food market as it is gluten free.
Can you please tell us a little about the history of cassava in Indonesia?
Native to South America, cassava was brought into the country by the Portuguese (supposedly from Brazil, its colony), who came to Indonesia before the Dutch in the 16th Century. Cassava is known throughout Indonesia and is used extensively in multiple ways until today. Every region has its own distinct way of preparing cassava as a staple food and snacks.
What are some of the different preparation methods across the archipelago?
In many provinces of Indonesia, not only the tuber is consumed, but also the leaves. In the poorer regions of Indonesia, cassava is sun dried and preserved for months to feed the family during the non-harvesting season. Gaplek is the most popular form of dried cassava, which is slightly fermented. Gaplek and fresh cassava are not only eaten as staple foods, but also made into hundreds of different snacks, usually involving palm sugar and coconut. The most popular snacks include singkong goreng (deep fried cassava), and combro. Popular in Java, combro are deep fried croquettes of thinly shredded cassava filled with sambal oncom, which is a type of fermented soybean sambal. The simplest popular snack is boiled (or steamed) cassava with desiccated coconut and palm sugar syrup.
What are the cassava industry trends in Indonesia and worldwide?
I would like to see cassava promoted by the Government to change the diet of Indonesians, whose dependency on rice has become counterproductive to the health of the people. (We are now number four in the rank of the world's diabetic patients). Besides fresh cassava as a daily staple, mocaf (modified cassava flour) should also be promoted as a substitute for wheat flour as much as possible.
For instance, if the Government stipulated that all instant noodles produced in Indonesia must contain 25% mocaf, I think it would help reduce the importation of wheat, increase our food sovereignty, and improve the health profile of the nation. It has been tested in laboratories that up to 25% mocaf substitution in instant noodles would not alter the taste and texture profiles of the noodles.
Many healthier (reduced sugar, salt and oil) snacks made of cassava or mocaf should be promoted through the school system to change the snacking habits of young students. National leaders should walk the talk and eat cassava in their daily lives. Public figures can also lead the movement to eat more cassava. In the past cassava suffered from being labelled a 'poor man's staple food'. It has to change.
Are there any environmental concerns in the production of cassava? 
Actually, cassava cultivation is beneficial for the environment. Marginally fertile land, which is quite plentiful in this country, can be converted into cassava plantations. Cassava can live on soil previously depleted by other crops.
However, in the production of cassava to make tapioca, the waste – when not disposed of properly – could pose serious environmental problems. The Government should, therefore, assist the villagers to make mocaf instead of tapioca. The production of mocaf yields much less waste compared to that of tapioca. Indonesia is now one of the world's largest cassava producers, but can still increase its production. So, with the right direction, we can open up new jobs in the cultivation and production of cassava.
What are your favorite cassava dishes? 
My favorite cassava dish is gulai ubi tumbuk, a popular North Sumatran cuisine, made of cassava leaves, pounded coarsely, and cooked in light coconut milk curry. Thinly sliced bunga kincung or torch ginger flowers give a hint of sourness and a beautiful aroma to this vegetable curry. Of the cassava itself, my favorite is sawut – coarsely shredded fresh cassava, steamed. I use this to substitute rice when eating beef rendang. Heavenly! If I have been good enough with my diet, sometimes I treat myself with singkong goreng rica roa. Deep fried cassava, eaten with rica roa (chili paste with smoked roa fish, a specialty of Manado in North Sulawesi).