---
Recipe Archive // 2018 Teater Kuliner: Surabaya's Specialties with Ibu Sisca & Novia Soewitomo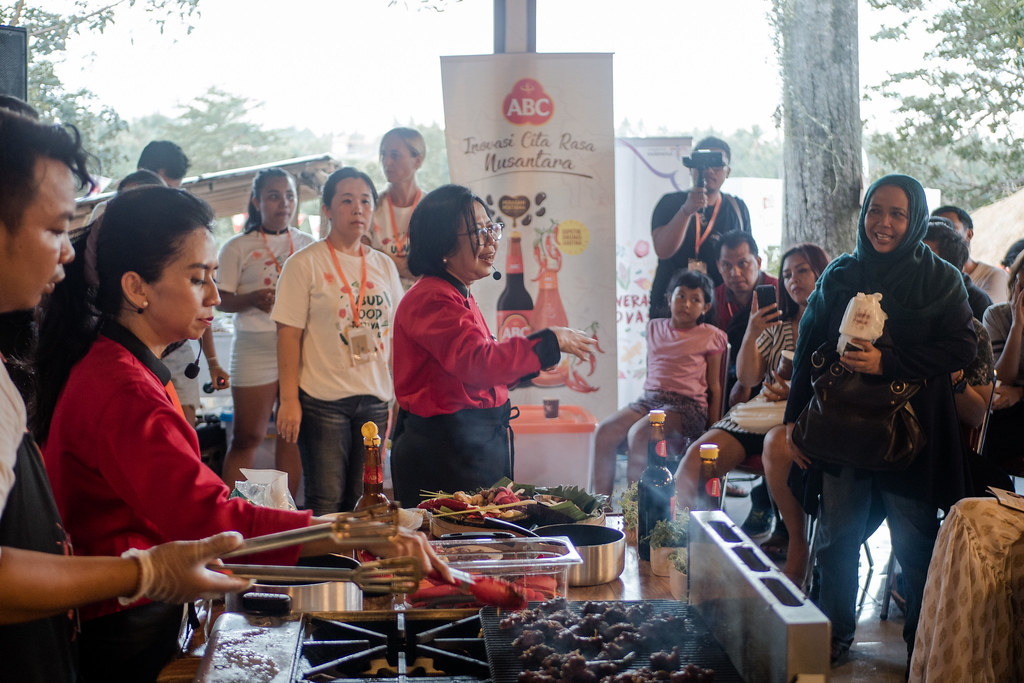 Since Ubud Food Festival first launched in 2015, we've had countless of chefs and culinary figures joining us on our cooking demo stages, Kitchen Stage and Teater Kuliner. To refresh your memory on the fun and endearing Festival experience, we would like to share some of the best recipes from those stages that you can try at home.
This week, we are bringing the fun memories of having the one and only Queen of Indonesian Cuisine, Ibu Sisca Soewitomo in our Teater Kuliner stage in 2018. Hailing from Surabaya, Ibu Sisca and her daughter Novia Soewitomo whipped up one of the city's specialties, lontong balap.
Lontong Balap
Ingredients:
500 gr tenderloin
2 lt water
1 pc nutmeg, smashed
2 stalks spring onions, sliced
2 tbsp sweet soy sauce
200 gr sprouts
6 pcs tofu, deep fried
2 tbsp coconut oil
7 cloves shallots
3 cloves garlic
1 tsp salt
1 tsp Pepper
Rice cake
Fried lentho (recipe below)
Shrimp paste
Shrimp crackers
Fried shallots
Methods:
1. Put shallots, garlics, salt and pepper in food processor and blitz until become a smooth paste.
2. In boiled water, add the tenderloin and cook until tender. Take it out and put in a colander to allow the liquids to drain. Reserve the stock. Once cooled, chop the tenderloin into cube.
3. Heat coconut oil over medium heat, add the spice paste and cook until fragrant. Add the cooked spice paste to the beef stock along with sweet soy sauce, sliced spring onions, let it simmer for few minutes. Add the cubed tenderloin back to the stock.
4. On a bowl, prepare the rice cakes, sprouts, tofu, fried lentho and the beef soup, topped with fried shallots. Always serve hot.
Fried Lentho
Ingredients:
150 gr tolo peanuts (or regular peanuts), boiled until tender
1 Egg white
2 Kaffir lime leaves
5 Cloves garlic
8 Bird's eye chili
5 cm sand ginger (kencur)
Methods:
1. Mashed 3/4 of the boiled peanuts and keep the other 1/4 whole.
2. Put garlics, chili and sand ginger in food processor and blitz until they become a smooth paste.
3. Mix together all of the ingredients including the mashed peanuts and spice paste in a large bowl. Shape the dough into balls then deep fried until golden brown.
If you are making this recipe at home, don't forget to share on social media and tag @ubudfoodfest to get it reposted.