---
Recipe Archive // Kitchen Stage: Modern Manadonese with Petty Elliott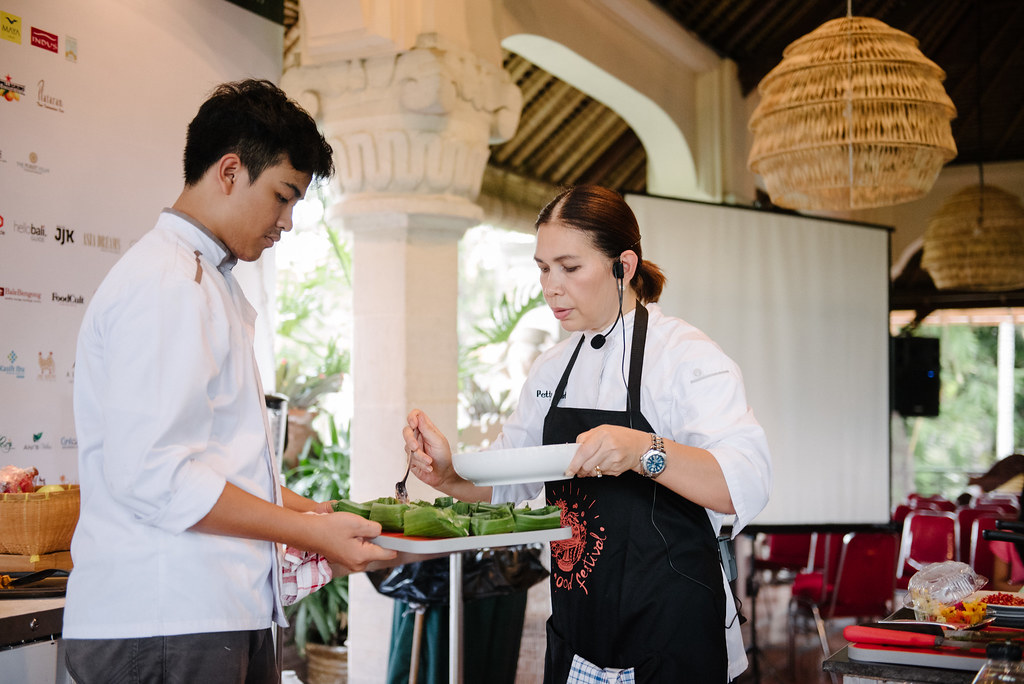 Since Ubud Food Festival first launched in 2015, we've had countless of chefs and culinary figures joining us on our cooking demo stages, Kitchen Stage and Teater Kuliner. To refresh your memory on the fun and endearing Festival experience, we would like to share some of the best recipes from those stages that you can try at home.
Lets take a trip down memory lane, all the way to UFF17 with Petty Elliott. Food writer and self-taught chef, Petty Elliott proved her talent for transforming traditional Indonesian dishes into modern masterpieces by returning to her Manadonese roots at this Kitchen Stage session. With a tantalizing creation of Manadonese Risotto, see and taste for yourself why Petty is hailed as a culinary hero.
Manadonese Risotto (Tinutuan, Bubur Manado)
Ingredients:
300 gr round grain white rice, preferably risotto rice
200 gr pumpkin, peeled, deseeded and fiber removed (Cut into large chunks)
200 gr sweet potatoes, peeled and cut into large chunks
2 fresh cobs of corn, kernels sliced off the cob or 200 gr canned sweet corn
200 gr water spinach or regular spinach
1 litre hot water
2 stalks lemon grass, crushed
A handful of basil or kemangi
4 garlic cloves, crushed
10 shallots, thinly sliced
4 tbsp cooking oil
Salt and pepper to taste
Methods:
1. Pre-heat the oven to 180°C
2. Place pumpkin and sweet potatoes in an ovenproof dish. Season with salt, black pepper and 2 tablespoons of oil. Cook until soft and set aside.
3. Heat oil in a large frying pan. Add shallots and garlic, sauté for 3 minutes.
4. Add rice, turn off the heat and stir until the rice is totally coated.
5. Turn the heat back on, add lemon grass and 3 ladlefuls of hot water (or just enough to cover the rice). Simmer, and stir until the rice has absorbed nearly all the liquid. Continue to add stock, while the existing stock is absorbed. After about 17 minutes the rice is nearly cooked.
6. Add the cooked pumpkin, sweet potatoes and corn. Mix well and cook for 5 minutes. Add more stock if necessary, make sure the rice has creamy consistency.
7. Add spinach and basil or kemangi, cook for 2 minutes.
8. Season with salt and black pepper and serve while it's warm.
If you are making this recipe at home, don't forget to share on social media and tag @ubudfoodfest to get it reposted.