---
Recipe Archive // Kitchen Stage: My Ceremony's Bigger than Your Ceremony!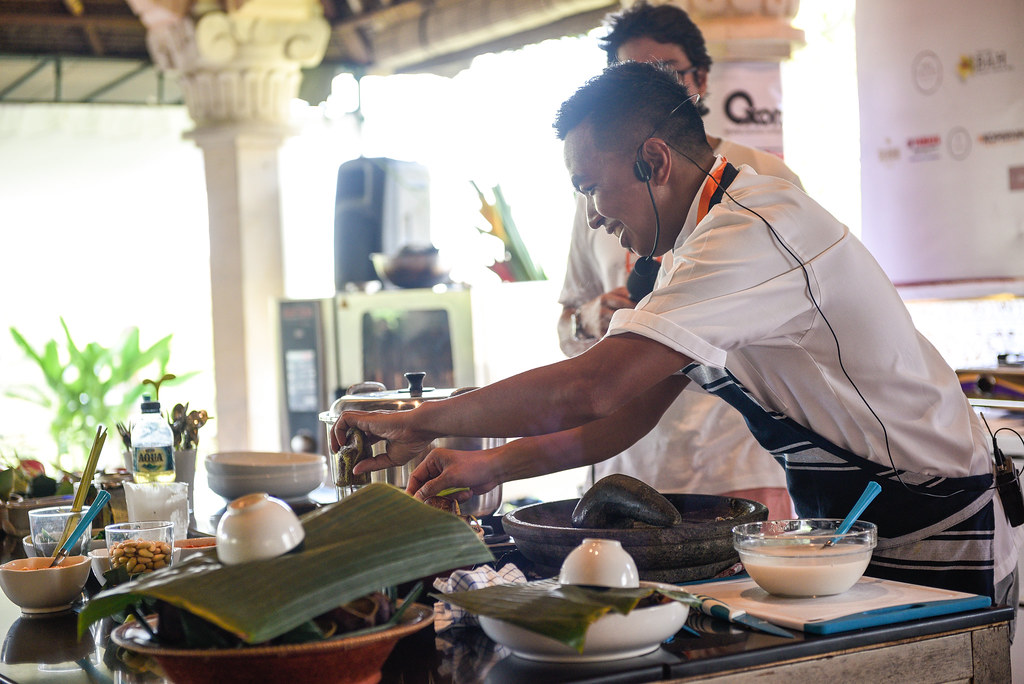 Since Ubud Food Festival first launched in 2015, we've had countless of chefs and culinary figures joining us on our cooking demo stages, Kitchen Stage and Teater Kuliner. To refresh your memory on the fun and endearing Festival experience, we would like to share some of the best recipes from those stages that you can try at home.
Today, we are taking you all the way back to UFF16 at Jon Priyadi's Kitchen Stage. Jon told the story behind Indonesia's complex ceremonial dishes in this mythical Kitchen Stage demonstration. Drawing from the Sumatran Forests of his homeland, chef Jon Priadi cooked up few dishes from the ceremonies there, one of them being dendeng batokok or smoked beef.
Dendeng Batokok with Kenari
Ingredients:
800 gr Australian Beef Sirloin
50 gr Kaffir lime leaf
150 gr Long red chili
2 garlic cloves
5 pcs limes
500 ml fresh coconut water
1 bunch coriander leaves
1 bunch chives
200 gr kenari nuts or almonds
1 tsp smoked dried paprika
Canola Oil
Coconut Oil
Methods:
1. Prepare the BBQ with coconut charcoal and husks.
3. Blend together coriander leaves and chives until it forms a paste consistency.
2. Slice the beef (around 1.5cm thick) and marinate with coconut water, lime juice, kaffir leaves, 3 tsp of the coriander and chives paste, set aside for an hour. After one hour, pound the beef and continue marinate with the spice blends below.
3. Blend together the kenari nuts, chilies, 1 tsp coriander and chives paste, garlic cloves, smoked paprika, 3 table spoons canola oil and some water for a smooth consistency.
4. Place the marinated beef on BBQ and brush with coconut oil and turn over a couple of time until the meat is cooked.
5. Serve the dendeng batokok alongside hot rice.
If you are making this recipe at home, don't forget to share on social media and tag @ubudfoodfest to get it reposted.