---
Recipe Archive // Kitchen Stage: Showstopping Ceviche with Daniel Chavez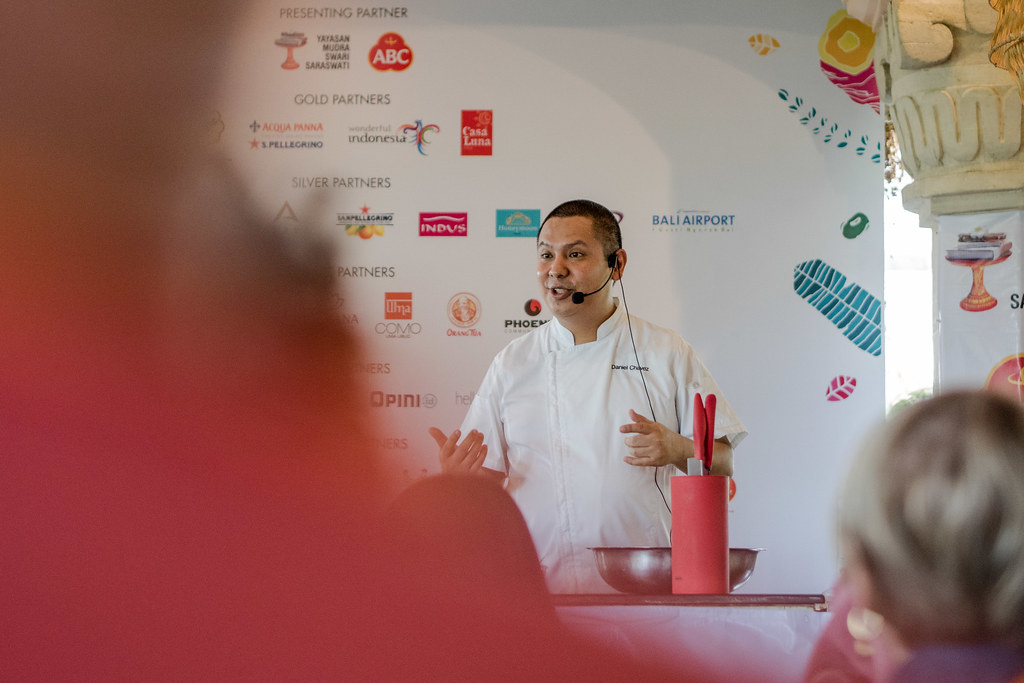 Since Ubud Food Festival first launched in 2015, we've had countless of chefs and culinary figures joining us on our cooking demo stages, Kitchen Stage and Teater Kuliner. To refresh your memory on the fun and endearing Festival experience, we would like to share some of the best recipes from those stages that you can try at home.
Let's look back to the 2018's Kitchen Stage with chef Daniel Chavez, where he whipped up ceviche al aji amarillo. The Peruvian dish ceviche is now a staple on seafood menus around the world, made up of raw fish, citrus, herbs and spices. Daniel Chavez, however, has a unique take in this recipe. He included mashed sweet potatoes for a plethora of playful texture.
Ceviche Al Aji Amarillo
Ingredients:
80 gr fresh fish diced
20 gr red onion sliced and washed in iced water
1/2 a piece of chopped chili padi
1/2 a clove of garlic
1 tsp diced red chili
1 tbsp diced yellow chili
3 ice cubes
1/2 tsp salt
4 limes, squeezed
6 coriander leaves
1 tsp evaporated milk
2 baby romaine lettuce leaves, washed
1 sweet potato
3 oranges
80 gr refined sugar
1 pc cinnamon
1 pc star annise
2 pcs cloves
Methods:
1. Squeeze all oranges into a pot, add in sugar, cinnamon, clove and star anise.       
2. Peel the sweet potato and put in the same pot, cover with water and cook until soft. Let it cool and mash.            
3. In a bowl, add the diced fish, red onions, garlic, chili padi, yellow chili and ice. Pour in the lime juice. Mix to rectify seasoning. Add evaporated milk while constantly mixing. Chop the coriander, then mix it in.
4. Serve the ceviche with the mashed sweet potatoes and baby romaine lettuce leaves.
If you are making this recipe at home, don't forget to share on social media and tag @ubudfoodfest to get it reposted.