---
Recipe Archive // Teater Kuliner: Little-known Balinese Ingredients with Nusantara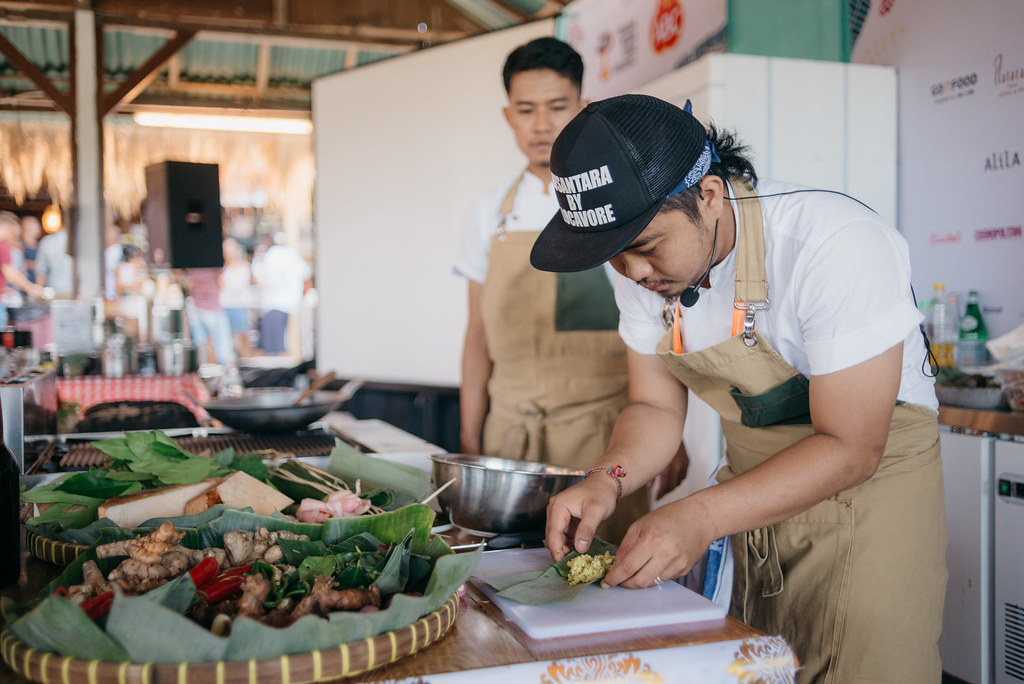 Since Ubud Food Festival first launched in 2015, we've had countless of chefs and culinary figures joining us on our cooking demo stages, Kitchen Stage and Teater Kuliner. To refresh your memory on the fun and endearing Festival experience, we would like to share some of the best recipes from those stages that you can try at home.
Take a journey down memory lane with Nusantara by Locavore's remarkable array of traditional dishes from across the archipelago, often feature rare or little-known ingredients. In this Teater Kuliner, Nusantara's Chef de Cuisine, I Putu Dodik Sumarjana, got creative with Balinese beloved dish, tum, by using banana root as the main ingredient.
Tum Bongkol Biyu
Ingredients:
500 gr banana root
250 gr grated coconut
100 gr mung beans, cooked
3 pcs kaffir lime leaves, sliced
10 pcs salam leaves
15 gr shallots
10 gr garlic
5 gr turmeric
3 gr small green chili
3 gr red curly chili
2 gr coriander seeds, roasted
salt
pepper
coconut oil
banana leaves
Methods:
1. Cut the banana root into big chunks and soak overnight in room temperature water to get rid of the excess starch.
2. Cook the banana root in salt water for about 2 minutes, drain and cut into small strips.
3. Grind shallots, garlic, turmeric, small red chili, red curly chili and coriander seeds in an ulekan (mortar and pestle) until the texture turns into a smooth paste and transfer into a mixing bowl. Add the banana roots, grated coconut, mung beans, sliced kaffir lime leaves and coconut oil. Season with salt and pepper to taste and mix well.
4. Prepare the banana leaves and put the salam leaves on top, add the mixture and wrap into a small parcel. Grill the 'tum' on charcoal for about 3-5 minutes.
5. Serve straight away.
If you are making this recipe at home, don't forget to share on social media and tag @ubudfoodfest to get it reposted.