---
Recipe of the Week | Braised Chicken with Balinese Spices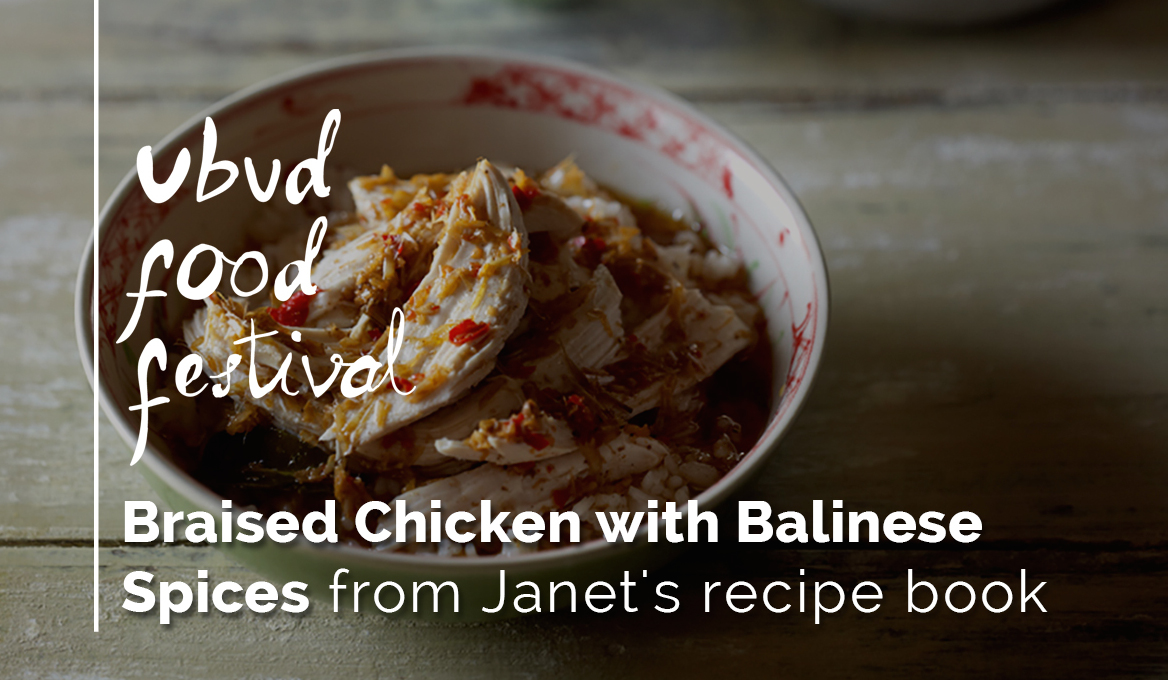 Janet DeNeefe says: The renowned roadside warung, Nasi Ayam Kedewatan, near Ubud, has been serving nasi campur featuring betutu ayam for as long as I can remember. This favourite haunt offers an authentic breakfast or lunch while providing a close-up and personal village experience. On the side of the narrow main road that leads to Kintamani, you can sit back and eavesdrop on all the latest gossip, from sales of rice-field properties to clandestine love affairs, while savouring the legendary chicken with rice and a mighty sambal.
The slow stewing of the meat results in a tender, tasty, almost soupy chicken that partners so well with other Balinese dishes. The lengthy cooking goes some way towards preserving the meat, making it one of those popular out-of-the-fridge-all-day meals that many families exist on in Bali.
This is soothing comfort food par excellence, filled with all the proverbial goodness that chicken soup offers. Ayam betutu, like bebek betutu, is usually cooked in coconut-palm bark, but is more commonly braised when it is cooked at home.
Ingredients 
Spice Mixture
5 red shallots
8 garlic cloves
8 long red chillies, de seeded
5 small chillies
3 lemongrass stalks
3 tablespoons chopped galangal
1.5 tablespoon chopped fresh turmeric
2 teaspoons chopped kencur
1.5 tablespoons chopped ginger
2 teaspoons shrimp paste
5 candlenuts, ground
1.5 tablespoons coriander seeds, ground
2 cloves, ground
½ teaspoon freshly grated nutmeg
2 teaspoon freshly ground black pepper
1 teaspoon white pepper
Braised Chicken 
1 large boiler chicken
100 ml oil
5 salam leaves
5 kaffir lime leaves
3 lemongrass stalks, bruised and tied in knots
1 tablespoon grated palm sugar
1 tablespoon tamarind pulp
sea salt
1.25–1.75 litres water
2 teaspoons sesame oil
Method
To make the spice mixture the traditional way, chop all the aromatics with a cleaver to result in a coarse blend as opposed to a smooth paste. If you prefer, you can blitz the ingredients in a food processor, stopping the machine before you get to a paste.
Rinse the chicken and pat it dry. Pour the oil into a pot large enough to hold the chicken, and place it over medium heat.
Add the spice mixture and stir with a wooden spoon for about 30 seconds, until fragrant. Throw in the salam leaves, lime leaves and lemongrass and fry for another 30 seconds, stirring constantly.
Add the chicken to the pot along with the palm sugar, tamarind and some salt and cover with the water. The chicken should be fully submerged.
Put a lid on the pot and bring to the boil, then reduce the heat to a simmer and cook for 30 minutes. Remove the lid and simmer for at least another 30 minutes, until the meat is tender enough to melt in your mouth.
Stir in the sesame oil and taste for seasoning, adjusting if needed. You can use the spicy chicken stock to flavour other dishes.
Serves 4