---
Tempeh and rocket salad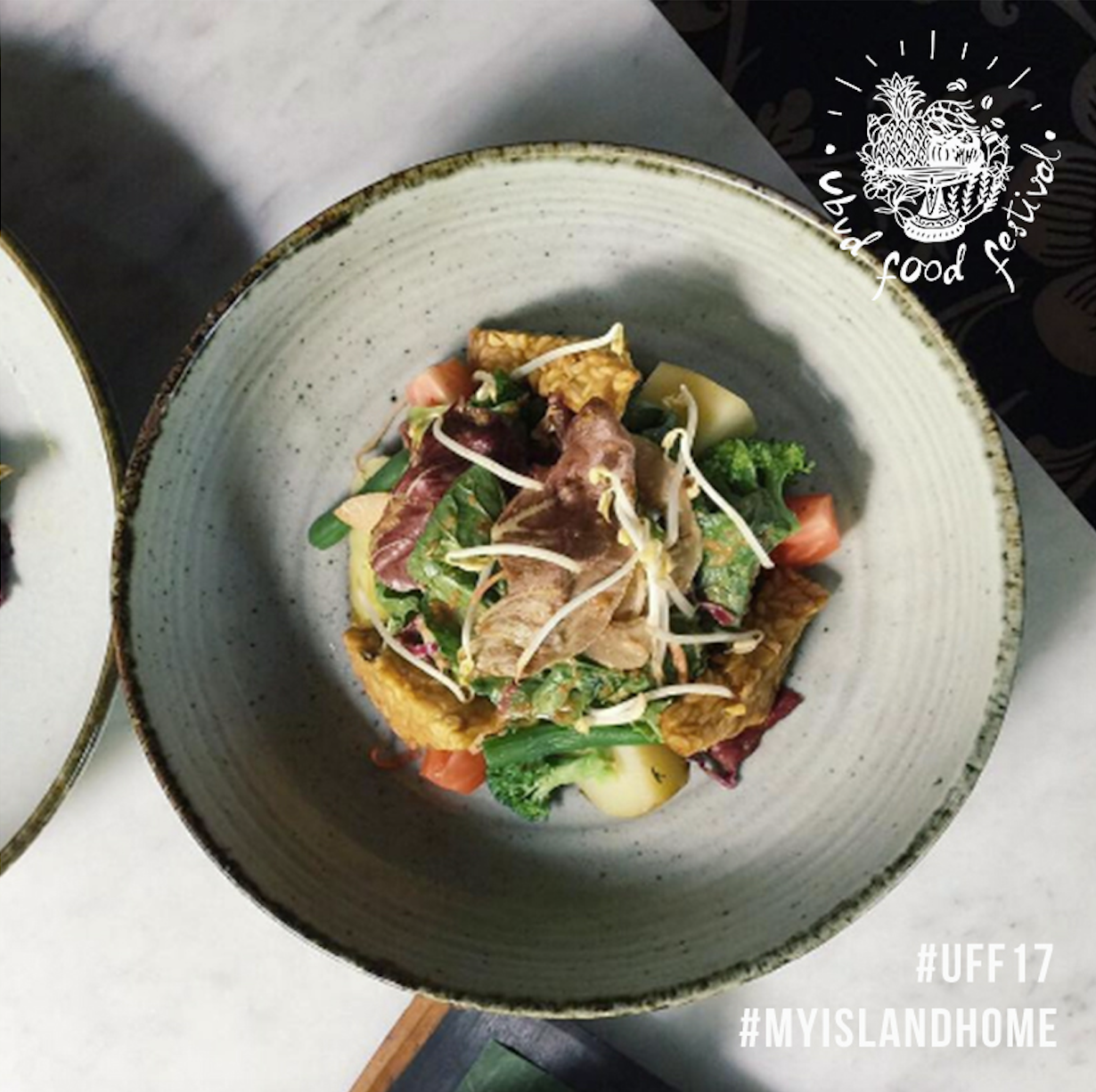 An accomplished cookbook author and restaurateur, UFF Founder & Director Janet DeNeefe has enjoyed a love affair with Indonesian food spanning more than 30 years. In this series, we share recipes from her celebrated cookbook, Bali: The Food of My Island Home. First published in 2011, the book has been reprinted by popular demand and will be available to purchase at the UFF17. Dig in! 
"This is a modern dish that combines the traditional Balinese technique of frying tempeh and pounding it penyet-style (penyet means to smash, flatten or pound) with the addition of my favourite salad ingredients – rocket, avocado and lemon basil. At any point when I feel like eating something green, fresh and healthy, I reach for this dynamic and elegant trio. I revel in their almighty flavour, texture and cleansing properties: sweet to satisfy (avocado), sour to uplift and cleanse the mind (lemon basil), and bitter to purify the liver and kidneys and pretty well anything else that needs repair (rocket). Add tempeh and sambal to this and, bam, you have the perfect dose of protein and a lingering kiss of chilli." – Janet DeNeefe.
Ingredients
120 ml vegetable oil
400 g tempeh, cut into 3 cm squares
8 heaped tablespoons Tomato Sambal
4 kaffi r lime leaves, rolled into a bundle and finely shredded
1 tablespoon kecap manis
juice of 2 limes, plus extra lime wedges, to serve
¹/3 cup sliced lemon basil (or Thai basil), plus extra leaves to garnish
sea salt
freshly ground black pepper
4 handfuls of rocket
2 large avocados, thickly sliced
2 large tomatoes, sliced into thin wedges
Method
Heat the oil in a wok over medium heat and add the tempeh, tossing until lightly browned. Drain, then place in a large mortar and add the sambal, lime leaves and kecap manis. Pound the tempeh lightly so it absorbs the fl avours. (Alternatively, you can do this in a bowl and stir and mash the tempeh roughly.) Add the lime juice, lemon basil and salt and pepper to taste.
Put the rocket, avocado and tomato in a salad bowl and mix together. Top with the tempeh mixture. Garnish with lemon basil leaves and serve with wedges of lime.
Serves 4.