---
Ubud Food Festival: Keep Our Communities Going
In this challenging time, many local businesses are struggling to stay afloat. Ubud Food Festival has always been a platform for local businesses to promote their products, and we would like to continue that role during these trying times. The Festival online platforms is promoting local businesses in Bali that are still open and providing services, products or special deals, to encourage more people to support. Here are some places in Bali that are still open, ranging from food and beverages, ingredients, and other services.
FOOD AND BEVERAGES
Black Eye Coffee & Roastery goes through a tight selection process for its coffee beans, only selecting the best from all over Indonesia to guarantee high-quality aroma and flavours. A selection of best coffee beans mixed with a high quality ingredients to produce a unique aroma and flavors of Ready to Drink Coffee without any preservatives by Black Eye Coffee & Roastery.
Variants: Cold Latte Hazelnut, Latte Vanilla, Latte Caramel, Latte Capucino Latte. Available in 250ml, 350ml and 1000 ml.
Fresh milk and high quality ingredients to produce a unique flavors of Ready to Drink Non-Coffee variants without any preservatives by Black Eye Coffee & Roastery.
Variants: Milky Matcha, Milky Taro, Choco Latte
Open: Everyday, 12.00 – 19.00 WITA
Special Offers: Image below for coffee
Special Offers for Fresh Milk – All Variants 250 ml IDR 22.400 (Normal Price IDR 28.000), all Variants 500 ml IDR 40.000 (Normal Price IDR 50.000)
Contact: Ubud +628113991706 and Seminyak +628113896708
Website: @blackeyeid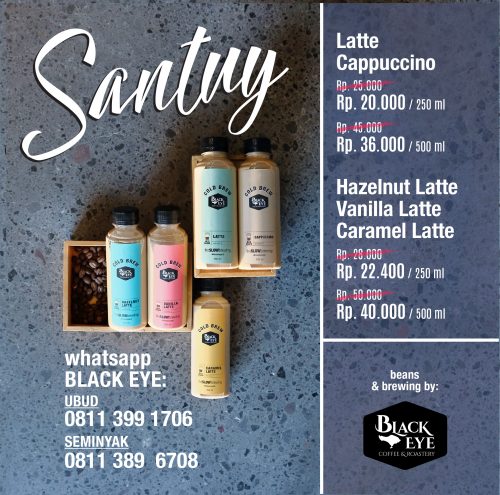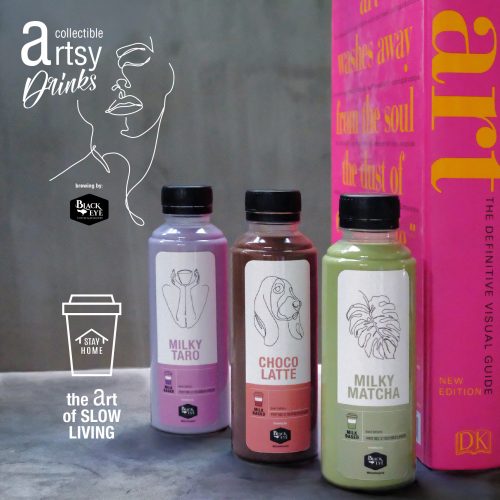 Bebek timbungan become the special course serve by cultivating the ancient recipe and processing method in accordance to the prescription of ancestral heritage. The menu is a duck meat dish cooked with Balinese spice using "timbung" or bamboo. Very unique, a mandatory culinary experience in Bali island.
As a packaged of a frozen duck complete with the bamboo stem and Balinese spices , Bebek Timbungan Frozen does not reduce its distinctive flavor without additional preservatives. A very easy and simple by using a microwave or oven for 15 minutes put the duck within the bamboo stem, then its ready to serve! Delicious Balinese duck as easy as cooking at home.
Open: Everyday, 12.00-20.00 WITA
Contact: +62 811-3800-3222
Website: @bebektimbungan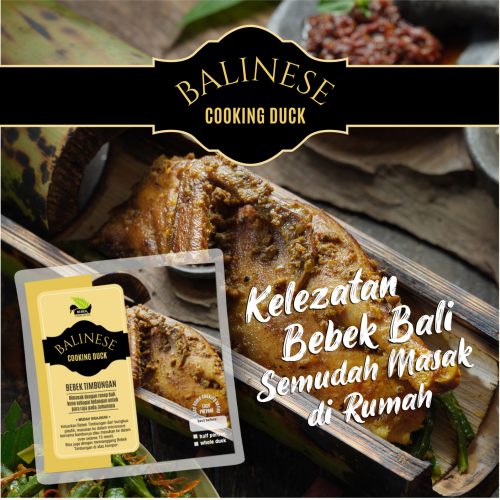 ACCOMODATION
One of the best locations in Ubud, situated in between Monkey Forest Road and Ubud's Main Street but yet still peaceful with rice field view. Choose from one of the three accommodation styles. Cottages are wooden Bali bungalow style with a balcony overlooking the tropical garden. Two Bedroom Cottages are perfect for families. Deluxe Cottages are larger, more modern and have rice field view.
Open: From 19 June 2020
Special Offers: STAY LATER SAVE NOW VOUCHERS – 2 Night Stay from Rp 1,100,000 includes free floating breakfast, unlimited drinking water, tea and coffee, WIFI and Govt Tax.
Contact: hello@bismacottagesubud.com
Website: https://bismacottagesubud.com/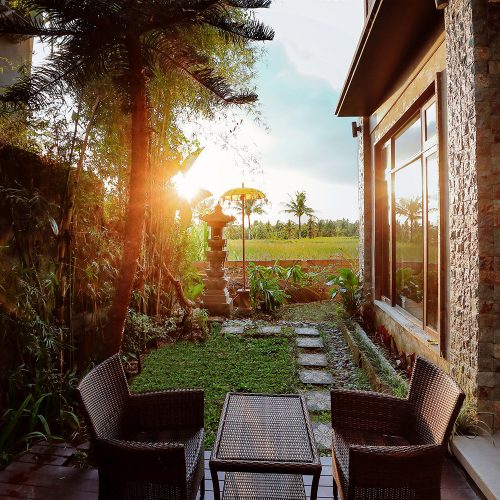 We also welcome anyone who would like to promote their businesses in Bali to contact us at media@ubudfoodfestival.com.