---
UFF17 Volunteer Stories: Trifitri Muhammaditta, MC
Over 80 volunteers helped keep the wheels turning at UFF17 in almost every area of the Festival, from registering journalists in the Media Center to introducing sessions and speakers as MCs. In our Volunteer Stories series we'll hear from them about their Festival experience, and all the tasty treats they tried along the way! This week we spoke to Trifitri Muhammaditta (better known as Ditta), a returning volunteer who once again displayed her impressive MC and management skills as MC Supervisor.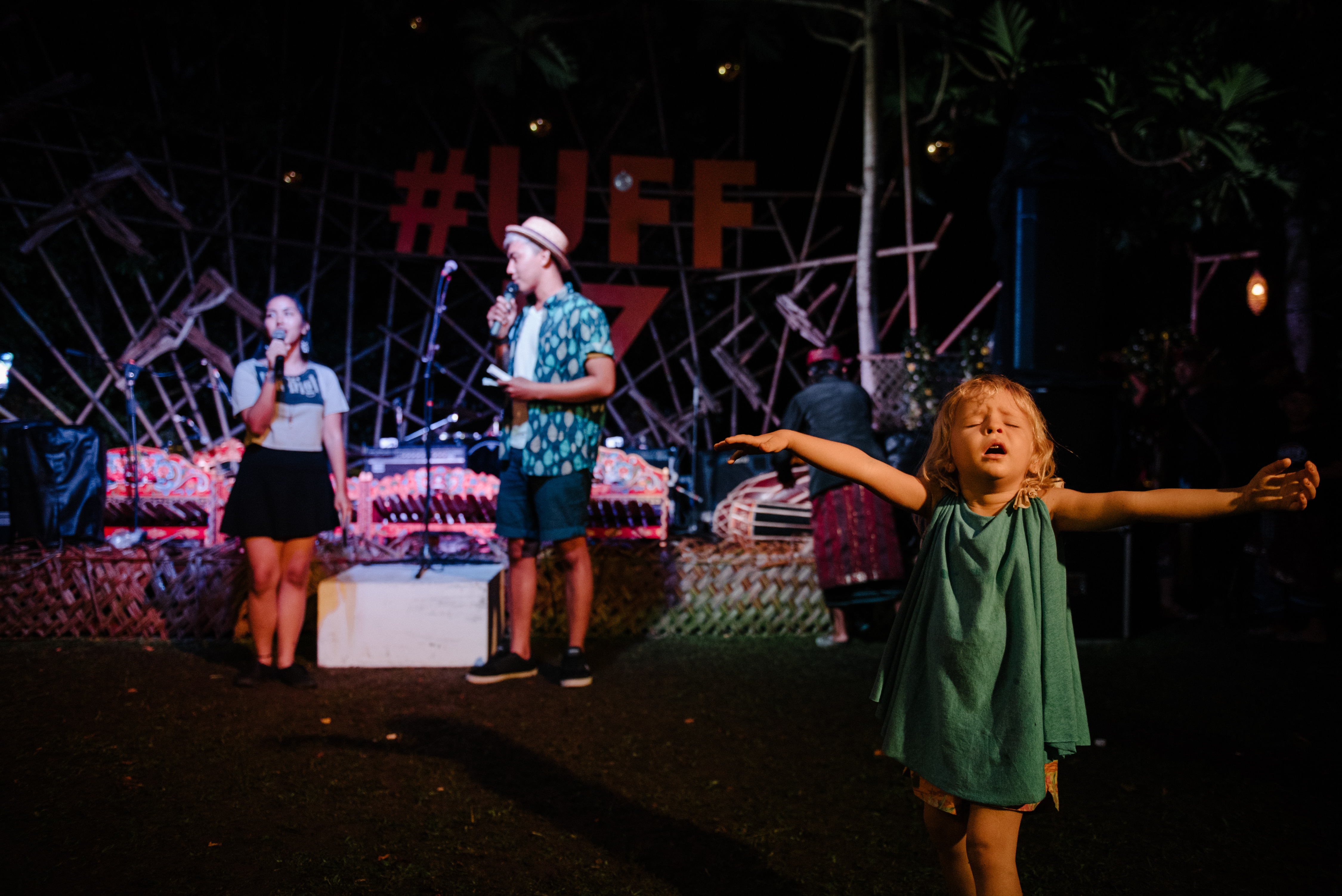 What was the most delicious thing you ate at UFF17?
The most delicious thing would be everything at UFF, especially Bu Sisca Soewitomo's cooking! She made some kind of tom yum-like soups and curry soups with what I think was codfish and stingray. It was the first time I've tried that protein and it was super tasty! My other favorite was the iced latté from Coffeenatics. Not only was the coffee awesome, but also the baristas and the founders too. They gave a 20% discount for volunteers which was great! Especially for a coffee junkie like myself.
What was the most memorable moment of your UFF17  volunteer experience?
Being able to meet people (volunteers, guests, and speakers/chefs) from different backgrounds was one of the most amazing things! But, having a team of fellow MCs was fantastic. I couldn't not have asked for a better team! They were supportive and independent, and also super hilarious. If you wanna be in a freaky-crazy team, you should consider joining the MC team!
Another thing that I feel to be one of the most memorable moments was when I MCd one masterclass about blind chocolate tasting with Tissa Aunilla, Co-founder of Pipiltin Chocolate. She was kind and generous. Her product is my favorite locally produced chocolate! Unlike at UFF16, she didn't open a stall because she was anxious about the temperature potentially melting the chocolate. I asked her whether it was possible for me to buy some of her display products. Instead, she gave me some for free
What did you learn at UFF17? 
Each time I returned to the Festival, I always learn new things. Not only about food, but also about people. How to deal with various people, manage my time, and be kind and generous. I even learned to deal with my lack of confidence. I considered myself as a follower who is able to lead in times of need. Yet, being the MC Supervisor brought out the best of me. I could also improve my English by speaking in front of people because you have to think quick and smart. Also, I learned to be more punctual even though I consider myself as a punctual person. Even though the Festival is international, I also learned many things about Balinese culture and their way of life
What would you say to someone who is interested in volunteering for the first time at  UFF18?
When you're considering applying to become a volunteer, just hit the apply button! Never think twice! Don't hit new tab, or back, or close tab or window, or even shut down your PC! Volunteering at UFF is such a valuable experience. Maybe, you can even find 'the one' there! The one chef you love, the one new friend that feels like you have known him or her for a lifetime, or the one you will love hehe. Becoming a volunteer has some perks, too. You will get to meet and talk with the speakers/chefs/artists you have crushed on first hand. After volunteering for the Festival, I have many friends from around Indonesia and the world. You will too if you decide to volunteer at UFF18!