---
Yestereats | Mie Sop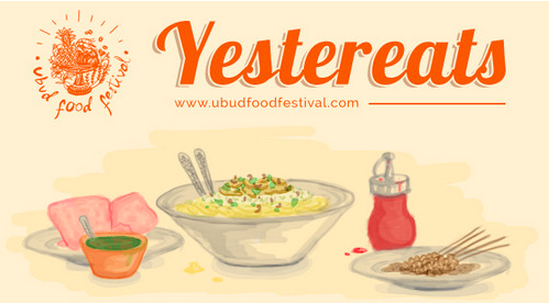 Starting this week, let's travel back in time with top Indonesian food bloggers for our new series Yestereats, a nostalgic ode to favourite childhood eats. From school lunches to sticky sweet cakes and traditional dishes, find out the meals that started their love affair with food. 
My favourite childhood food is Mie Sop, a North Sumatran dish. It's basically egg noodles or rice noodles immersed in chicken broth, richly spiced with clove, cardamom, star anise, cinnamon, topped by chicken slivers or beef chunks, fried shallots and crackers. Sometimes a cockle satay is added, drizzled with sweet soy sauce and green chili sambal.
I had my first Mie Sop – I think, anyway – in primary school. They sold this at the school canteen, and it was cheap! In Jakarta, you can find Mie Sop in the Pluit or Muara Karang area, in restaurants specialising in the cuisine of North Sumatra. Also, in residential areas such as Duta Mas and Taman Palem Lestari, even Pasar Modern Santa has them now.
– – –
Mulai hari Rabu ini, mari masuk ke dalam mesin waktu bersama para food blogger ternama Indonesia dalam serial baru Yestereats, di manamereka mengenang makanan favorit masa kecil. Dari mulai makanan kantin sekolah,kue jajan pasar, sampai santapan tradisional, inilah menu yang menimbulkankecintaan mereka pada dunia kuliner. 
Menu masa kecil favorit saya adalah Mie Sop yang berasal dari Sumatera Utara. Mie Sop ini berupa mie kuning atau bihun yang diberi sop ayam yang kaya bumbu seperti cengkeh, kapulaga, star anise (bunga lawang), kayu manis.  Topping-nya bisa berupa suwiran daging ayam atau sapi dan dilengkapi dengan taburan bawang goreng dan kerupuk. Bisa juga ditambah dengan sate kerang, dikucuri sedikit kecap manis dan sambal hijau.
Pertama kali mencicipi Mie Sop ini kalau tidak salah adalah sewaktu masih duduk di Sekolah Dasar. Menu ini tersedia di kantin sekolah dan harganya juga sangat murah.
Mie Sop masih bisa ditemui di Jakarta seperti di daerah Pluit atau Muara Karang, di rumah makan yang menyediakan makanan khas Sumatera Utara. Di beberapa perumahan seperti Duta Mas dan Taman Palem Lestari dan bahkan Pasar Modern Santa sekarang juga ada Mie Sop Medan.
About the Author
Jeny is a freelance web designer who loves to try unique cuisine from different regions. In 2004, Jeny started JenzCorner.net which now has more than 700 independent reviews of eateries across Indonesia. JenzCorner.net does not accept food tasting invitations/paid reviews.
Jeny adalah seorang freelance web designer yang gemar mencoba masakan-masakan unik dari berbagai daerah. Sejak 2004, Jeny memulai JenzCorner.netyang kini sudah berisi lebih dari 700 review obyektif tempat makan di beberapa kota di Indonesia. JenzCorner.net tidak menerima tawaran food tasting/review berbayar.