---
Yestereats: Rujak Bagan with Wanderbites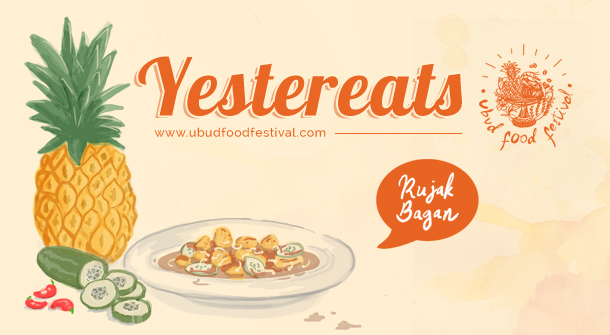 Mari masuk ke dalam mesin waktu bersama para food blogger ternama Indonesia dalam serial #Yestereats, di manamereka mengenang makanan favorit masa kecil. Dari mulai makanan kantin sekolah, kue jajan pasar, sampai santapan tradisional, inilah menu yang menimbulkankecintaan mereka pada dunia kuliner.
Menu favorit dari masa kecil saya adalah Rujak Bagansiapi-api, rujak khas kota Bagansiapi-api, kota kelahiran saya di Riau. Segala rasa ada dalam satu piring: manis, gurih, asam, pedas dari campuran nanas, tauge, timun, heci (gorengan udang), tahu, digado dengan bumbu kuah kacang, petis dan sambal. ​Saya besar dengan menu ini.
Sejak pindah ke Jakarta, menu ini yang biasa saya nikmati dari kota kelahiran saya, selain Bakmie Bagan dan Ka Ri Peng (nasi kari). Saya sangat bangga dengan latar belakang saya dan tiap kali saya makan rujak ini, saya selalu ingat dari mana saya berasal dan perjalanan hidup saya selama ini.
---
Let's travel back in time with top Indonesian food bloggers for our series #Yestereats, a nostalgic ode to favourite childhood eats. From school lunches to sticky sweet cakes and traditional dishes, find out the meals that started their love affair with food.
My favourite childhood food is Rujak Bagansiapi-api, a traditional Bagansiapi-api rojak from my hometown of Bagansiapi-api. You have everything in the same plate: sweet, savoury, sour, and spicy from the pineapple, bean sprouts, cucumber, heci (fried mini shrimps), tofu, smothered with peanut sauce, petis (sticky shrimp paste), and sambal. I remember growing up with it.
Ever since I moved to Jakarta, it's the only dish I can enjoy from my hometown. Other than Bakmie Bagan (Bagan Noodle) and Ka Ri Peng (Curry Rice). I take my roots seriously and every time I eat Rujak Bagansiapi-api, I remember where I came from and how far I've come.
About the Author
Fellexandro Ruby 
Fotografer makanan. Menjadi pencinta kopi sesudah mencicipi Bear Pond dan Sarugaku di Tokyo. ​Will travel for good food. Instagram: @captainruby
A food photographer. Has a newfound love for coffee after visiting Bear Pond & Sarugaku in Tokyo. ​Will travel for good food. Instagram: @captainruby
Take a Food Photography Workshop with Fellexandro Ruby (Wanderbites) and fine-tune your own professional photography style, or else listen in on Fellexandro talk all things street food in our free Food Forum.