---
Chilli Beef Noodles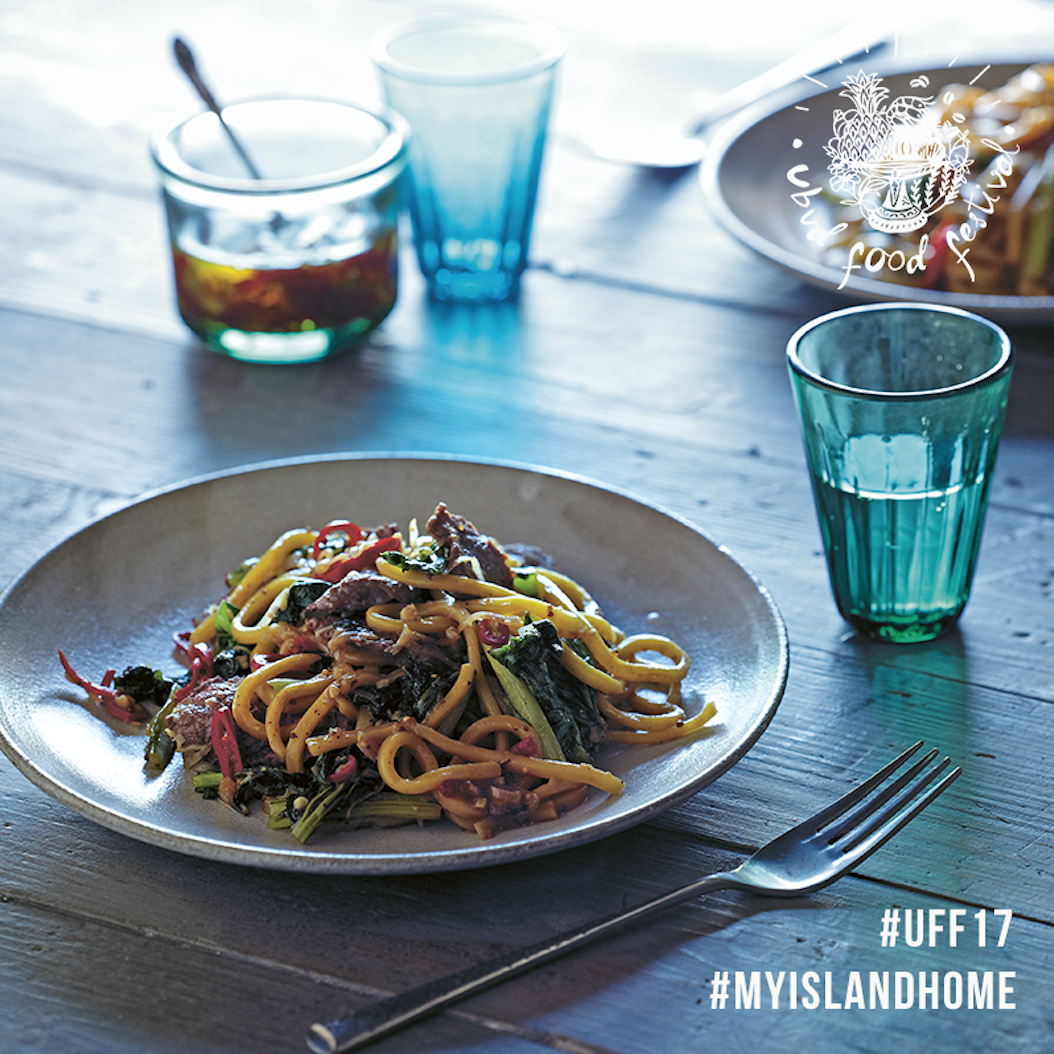 An accomplished cookbook author and restaurateur, UFF Founder & Director Janet DeNeefe has enjoyed a love affair with Indonesian food spanning more than 30 years. In this series, we share recipes from her celebrated cookbook, Bali: The Food of My Island Home. First published in 2011, the book has been reprinted by popular demand and will be available to purchase at the UFF17. Dig in! 
Popular on the menu of Indus, our second restaurant that overlooks the majestic Tjampuhan Valley, this is a slurpy, spicy noodle dish where you have to abandon any ideas of eating elegantly and surrender yourself to making a lot of noise and probably a lot of mess. Consider it therapy of sorts! Make sure you have all your ingredients prepared before heating up your wok because the cooking time is minimal.
Ingredients
3 tablespoons vegetable oil
200 g beef sirloin, sliced into long strips approximately 2 cm thick
80 ml Chinese rice wine (in Bali I use the local arak)
8 garlic cloves, finely chopped
½ leek, finely sliced
1 tablespoon finely chopped ginger
4 long red chillies, seeded and finely sliced
250 ml chicken stock
2 teaspoons seeded mustard
4 kaffir lime leaves
1–2 teaspoons sesame oil
1 tablespoon oyster sauce
2 teaspoons soy sauce
2 large handfuls of fresh egg noodles (or cooked dried egg noodles allowed to dry out a little)
4 cups chopped choy sum
4 small red chillies, sliced
sea salt
freshly ground black or white pepper
fried shallots, to garnish
lime wedges, to serve
fried Sambal to serve
Method
Heat the oil in a wok over medium heat and toss in the beef slices. Leave for a moment, then flip the slices over. When the beef is lightly sealed, pour in the rice wine. Quickly take the wok off the heat and remove the beef with a slotted spoon, leaving most of the oil and wine behind.
Return the wok to the heat and throw in the garlic, leek, ginger and long chilli. Toss around for 30 seconds, then add the stock, mustard, lime leaves, sesame oil and sauces. Bring to the boil and cook for another 30 seconds. Return the beef to the wok along with the noodles and choy sum. Toss around until the noodles are thoroughly mixed in. Throw in the small chilli and some salt and pepper to taste and toss for another 2 minutes, or until the choy sum is wilted. Turn off the heat and taste for seasoning. Serve the noodles and their soupy juices in bowls topped with fried shallots, and with lime wedges and fried sambal on the side.
Serves 2–4.