---
Dried Beef Curry (Rendang)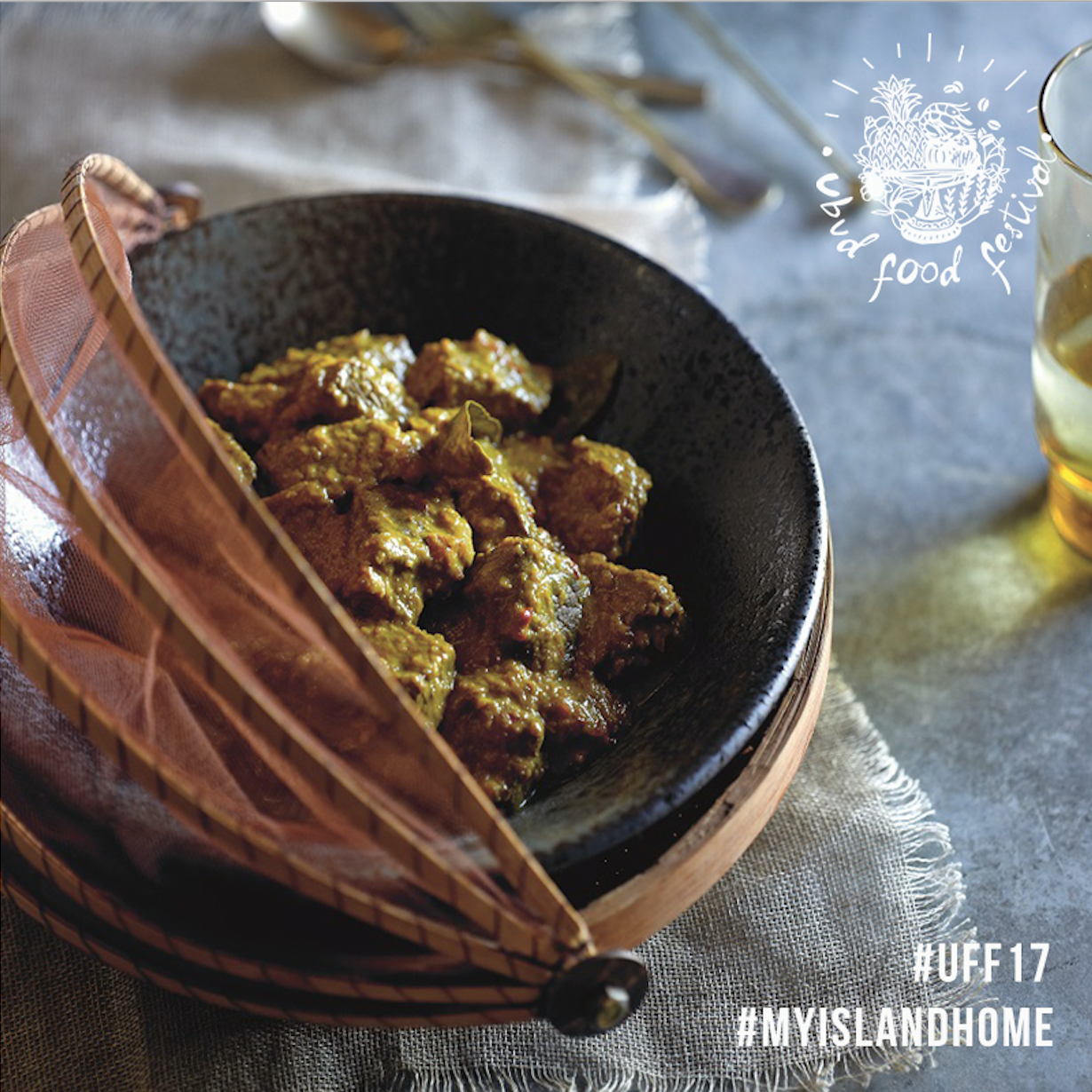 An accomplished cookbook author and restaurateur, UFF Founder & Director Janet DeNeefe has enjoyed a love affair with Indonesian food spanning more than 30 years. In this series, we share recipes from her celebrated cookbook, Bali: The Food of My Island Home. First published in 2011, the book has been reprinted by popular demand and will be available to purchase at the UFF17. Dig in!
"In keeping with Hindu dietary restrictions, beef is seldom served in a Balinese household. That doesn't mean it's forbidden though! Meat in Bali, is always cooked with a pile of fresh spices that tenderize, preserve, uplift and nurture. It's also about aiding digestion and a dash of tamarind, a few sprightly gingers and lemongrass will always help that process.
This recipe is a Balinese version of rendang and spotlights the acclaimed trio of galangal, turmeric and ginger, that constantly feature in Indonesian cooking. It has all the virtues of a slow-cooked stew; comforting, full of flavour, tender and deeply aromatic. It is also a joy to cook as the aroma that floats around the house, while the curry is simmering in the pot, is glorious" – Janet DeNeefe.
Ingredients
Spice Paste:
8 red shallots, roughly chopped
8 garlic cloves
6 long red chillies, seeded and roughly chopped<
4 tablespoons chopped galangal
2 tablespoons turmeric
2 tablespoons chopped ginger
6 candlenuts, dry-roasted in a wok
½ teaspoon cummin
Rendang
3 tablespoons oil
2 lemongrass stalks, bruised and tied in knots
3 kaffir lime leaves
3 salam leaves
500 ml coconut milk
1 cup water
500 g beef topside, in curry-size chunks
1 tablespoon tamarind pulp, mixed with a ¼ cup water and strained
2 tablespoons grated palm sugar
fried shallots to garnish
Method
Pound the spice paste ingredients to a smooth paste in a mortar, or blitz in a food processor with a little water if necessary to get the mixture moving.
Heat the oil in a wok over medium heat and fry the spice paste for 30 seconds. Add the lemongrass, lime leaves and salam leaves and toss around for another 30 seconds, until glossy and fragrant. Pour in the coconut milk and water and bring to the boil. Reduce the heat to a simmer and continue cooking for another minute, then add the sliced beef, tamarind and palm sugar. Simmer for 2 hours, until the meat is tender and the sauce is thick and reduced.
Serve with steamed rice, topped with fried shallots.
Serves 4.