---
Baked fish with pepper and kaffir lime crust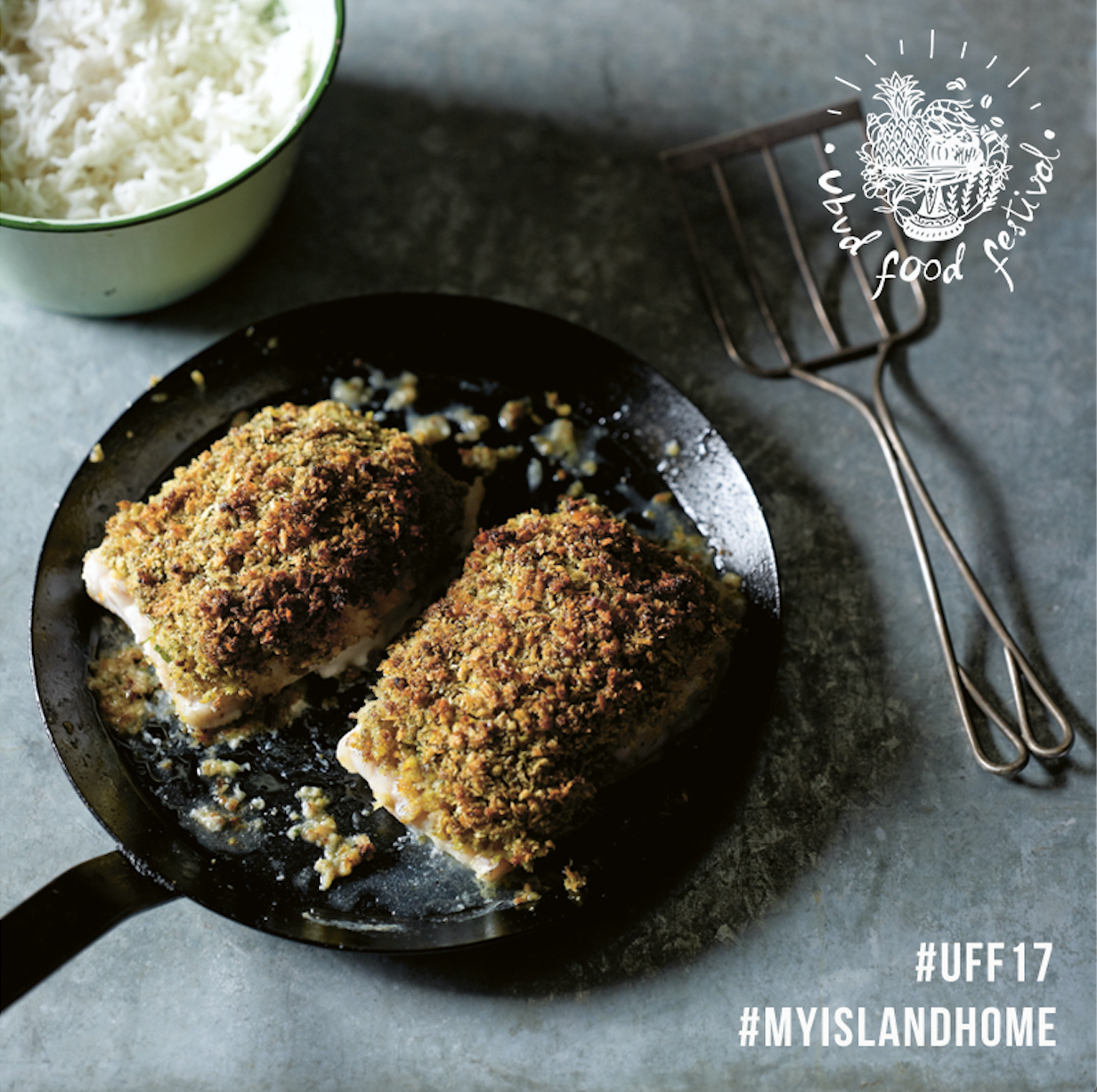 An accomplished cookbook author and restaurateur, UFF Founder & Director Janet DeNeefe has enjoyed a love affair with Indonesian food spanning more than 30 years. In this series, we share recipes from her celebrated cookbook, Bali: The Food of My Island Home. First published in 2011, the book has been reprinted by popular demand and will be available to purchase at the UFF17. Dig in! 
"This is a satisfying dish that combines the goodness of fish with Balinese spices and crunchy seasoned breadcrumbs. In Bali I use my favourite fish, Spanish mackerel, which has the perfect meatiness and flavour for the spiced crust, but you can use any other firm white fish or even salmon. Serve it with rice or a salad." – Janet DeNeefe.
Ingredients
1 teaspoon black peppercorns

1 teaspoon white peppercorns

1 tablespoon coriander seeds

80 g unsalted butter, plus extra for the baking dish

½ teaspoon freshly grated nutmeg

2 teaspoons grated palm sugar

2 tablespoons fried shallots, plus extra to garnish

5 kaffir lime leaves, rolled into a bundle and finely shredded

handful of lemon basil (or Thai basil) leaves

sea salt

2 cups fresh breadcrumbs

4 x 150 g firm white fish fillets
Preheat the oven to 180°C and lightly butter a baking dish. Heat a dry wok over low–medium heat and roast the peppercorns and coriander seeds until fragrant. Tip into a mortar and grind to a powder. Transfer to a food processor and add the butter, nutmeg, palm sugar, fried shallots, lime leaves, lemon basil and some salt and blend to a fairly fine paste. Add the breadcrumbs and pulse to a light and crumbly mixture. Lightly season the fish pieces with salt and pepper on both sides. Place in the baking dish and pack a generous layer of the crumbs on top of each piece. Bake for 15–20 minutes, or until the topping is golden and crunchy and the fish is cooked through.
Serves 4.