---
Jackfruit curry (Jukut nangka)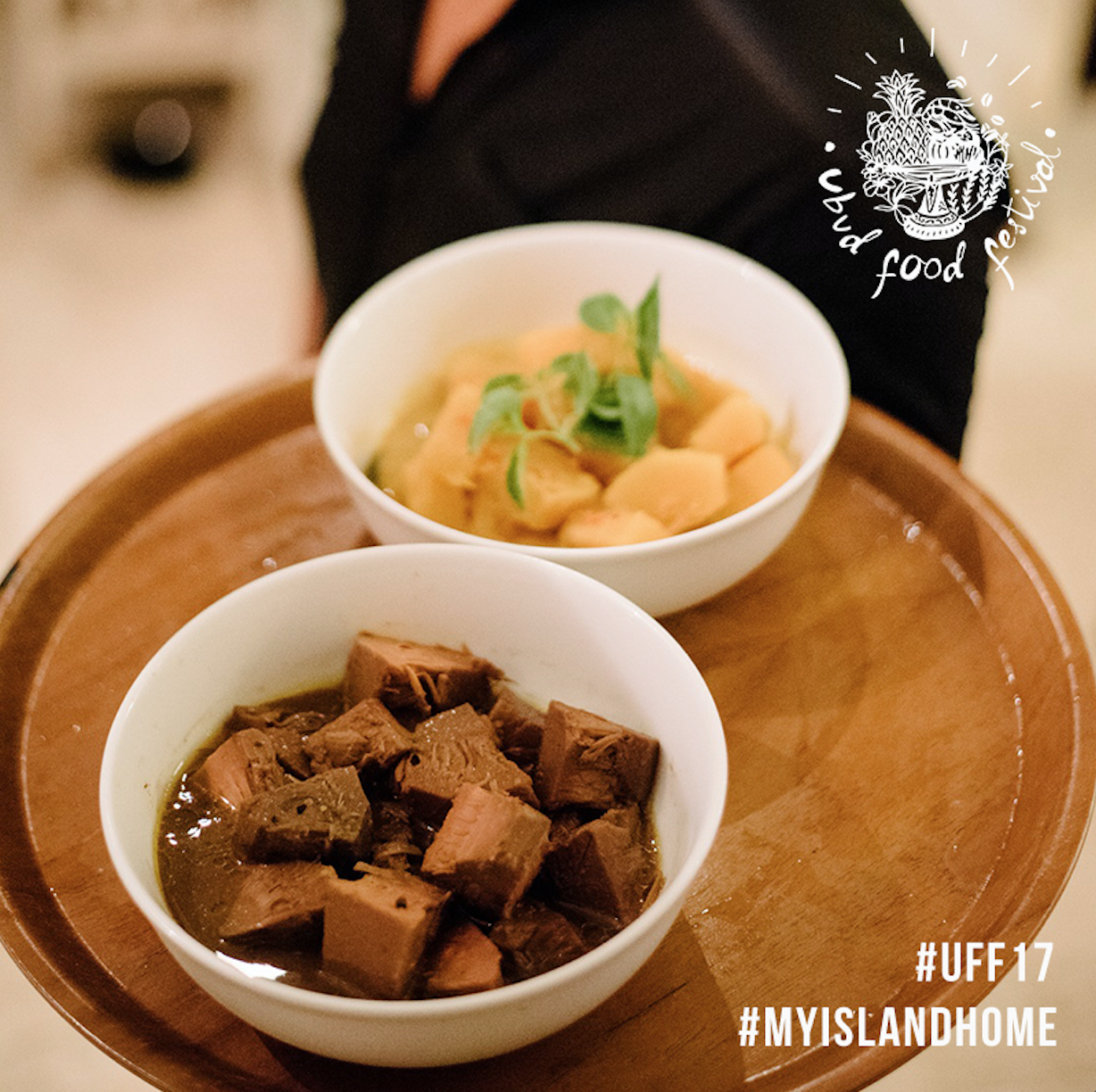 An accomplished cookbook author and restaurateur, UFF Founder & Director Janet DeNeefe has enjoyed a love affair with Indonesian food spanning more than 30 years. In this series, we share recipes from her celebrated cookbook, Bali: The Food of My Island Home. First published in 2011, the book has been reprinted by popular demand and will be available to purchase at the UFF17. Dig in! 
"To say we love jackfruit in Bali is an understatement. The huge, green and pointy fruit shaped like an irregular watermelon has a flavour a little like artichoke when green (it sweetens to a bubblegum flavour as it ripens) and can take on other flavours when cooked in dishes such as this. So jackfruit can serve as both fruit and vegetable.
Jackfruit curry is commonly served at ceremonies because it lasts a few days, but unlike some other ceremonial dishes, this is also everyday fare. Slow-simmered with spices, the jackfruit develops a soft, chewy texture not unlike tender beef. The optional addition of slaked or hydrated lime (calcium hydroxide), which may seem unusual but is a traditional ingredient, and it is also a feature of Indian and Latin American cooking, gives the curry a distinctive pinkish glow while adding a dose of calcium.  Jackfruit can be found at Asian grocers, but if unavailable you can experiment with choko or green papaya. Canned jackfruit just won't be the same." – Janet DeNeefe.
Ingredients
1 kg piece green jackfruit
1 teaspoon slaked or hydrated lime (calcium hydroxide) mixed with 1 litre water (optional)
3 tablespoons vegetable oil
4 tablespoons Base Genep
3 salam leaves
3 kaffir lime leaves
2 lemongrass stalks, bruised and tied together in a loose knot
200 g pork bones or 1 –2 chicken thighs on the bone (optional)
1 litre water, extra
2 tablespoons grated palm sugar
sea salt
3 tablespoons coconut milk (optional)
fried shallots, to garnish
Method
Wear gloves to prepare the jackfruit to avoid being covered in the rubbery liquid that seeps out. Cut off the rind and chop the fruit including the seeds into bite-sized chunks. Mix the jackfruit with the lime water (if using) and leave for 10 minutes before draining.
Heat the oil in a large saucepan over medium heat. Fry the base genep with the salam leaves, lime leaves and lemongrass for at least 30 seconds, stirring constantly, or until fragrant and glossy. Add the pork bones or chicken thighs (if using) and toss for about a minute until just sealed. Add the jackfruit chunks and toss for another minute. Add the extra water, palm sugar and salt to taste and simmer for around 1 hour, until the jackfruit is tender. Add more water if necessary. If you want a creamy finish, add the coconut milk and simmer for a further minute or two. Taste for seasoning, adjusting with extra palm sugar or salt if needed. Serve garnished with fried shallots.
Serves 4–8.