---
Recipe of the Week | Balinese-style Paella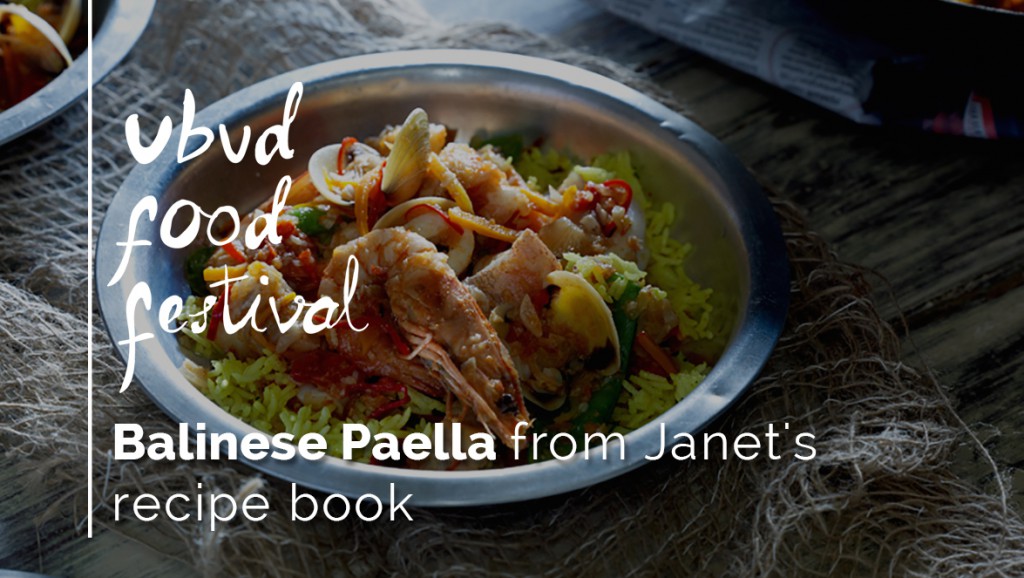 So here it is! Casa Luna's signature dish, which was inspired by – you guessed it – a trip to Spain. I devoured paella nearly every day when I visited in 1991, and in Madrid in the midst of probably my tenth version, I had an epiphany, or rather one of those 'what's all the fuss about this dish' moments, and realised I could create a superb Balinese paella adding a little mystique of the spice islands.
Our paella is an elegant celebration of seafood as well as a meeting of Bali and the Mediterranean – the flash of the flamenco is introduced to the shimmer of the legong, Bali's famous traditional dance. It has been one of the most popular items on our menu since we opened our large wooden doors in 1992. In actual fact, our dish is not truly a paella, but a spiced mixture of fish, prawns, calamari, clams and vegetables in a rich tomato sauce, served on a bed of fragrant yellow rice.
My advice when cooking this recipe is to be patient and walk, or rather, flamenco through the list of ingredients. If it makes you feel more confident, do what the cooks in the Casa Luna kitchen do, be cheeky, laugh, and crack some ribald Benny Hill-style jokes.
Add a glass of wine to that and you will make yourself a masterpiece!
Ingredients 
Tomato Sauce
1 kg tomatoes, roughly chopped
1 teaspoon tomato paste (optional, for a deeper colour)
8 garlic cloves
8 red shallots, roughly chopped
1 leek, roughly chopped
½ teaspoon oregano
1 teaspoon sea salt
½ teaspoon freshly ground black pepper
2 teaspoons grated palm sugar
2 bay leaves
3 tablespoons oil
Paella 
125 ml oil
6 raw prawns, shelled and de-veined but heads left in tact
200 g white fish fillets, cut into fat chunks
6 garlic cloves chopped
2 medium red shallots, chopped
¼ medium onion, chopped
2 long red chillies, finely sliced
3 teaspoons finely chopped ginger
200mls chicken stock
½ teaspoon fish sauce
6 clams, boiled in salted water until opened
6 calamari rings
1 small carrot, julienned
15 snow peas
4 kaffir lime leaves
sea salt
freshly ground black pepper
2 cups hot Fragrant Yellow Rice (page 000)
lemon basil leaves
wedges of lime
Method
Put the tomato sauce ingredients other than the oil in a food processor and blitz to a chunky sauce.
Heat the oil in a wok over low heat. Stir in the tomato sauce and bay leaves and simmer for around an hour, until the oil rises to the surface. Taste for seasoning and spoon into a bowl. Wipe out the wok.
To make the paella, heat the oil in the wok over medium heat and toss in the prawns. Fry for a minute, or until their flesh has just turned white. Remove from the wok with a slotted spoon and set aside on a plate.
Throw the chunks of fish into the wok and lower the heat a little. Toss around for about 2 minutes, until just sealed all over. Remove to the plate of prawns.
Add the garlic, shallots, onion, chilli, lime leaves and ginger to the remaining oil in the wok and toss around for 30 seconds. Add 6 heaped tablespoons of the tomato sauce, along with the chicken stock , lime leaves and fish sauce and bring to a simmer. Return the fish and prawns to the wok followed by the clams in their shells. Simmer for a minute, then add the calamari, carrot and snow peas. Cook until the calamari turns white. Season to taste with salt and pepper.
Serve the seafood and sauce on a bed of hot yellow rice. Scatter with lemon basil leaves and serve with wedges of lime.
Serves 4