---
The Festival Theme 'Soil' Seeks To Celebrate The Food & The Life Force That Our Spiritual Mother Gives Us
Southeast Asia's leading culinary event has unveiled its theme of this year's festival— 'soil'. This year, our festival will be paying tribute to soil—the living element that provides 95% of the food we eat. Accompanying this year's theme is an artwork created by the young Balinese artist, Ni Wayan Tiksna Gangga.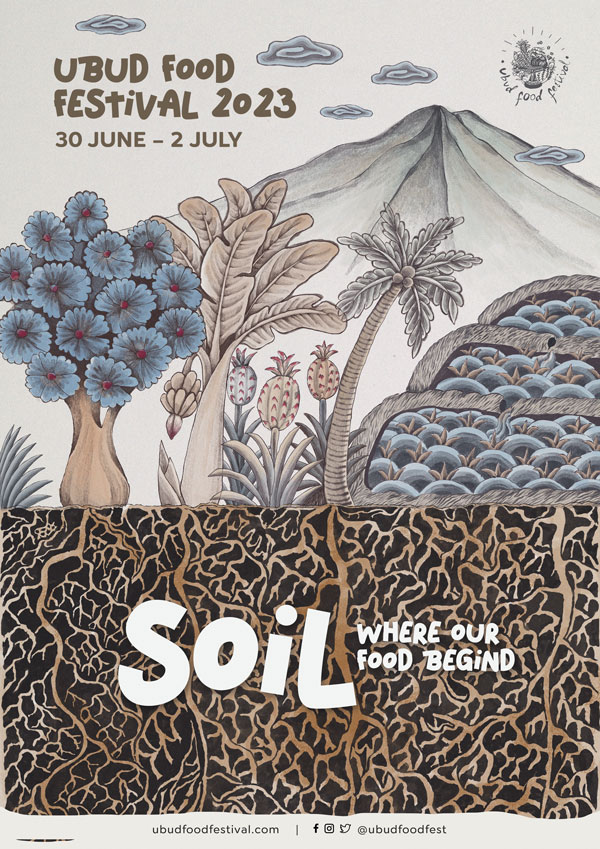 The Ubud Food Festival (UFF), first launched in 2015, is thrilled to announce its return this year from 30 June to 2 July 2023, following up on the success of last year's festival. UFF has been considered the most exciting cross-cultural culinary gathering in the region. The festival puts in the spotlight Indonesia's diverse cuisine, emerging and established chefs, as well as extraordinary local produce—all in a celebration that takes place in the beautiful landscape of Ubud, Bali's cultural centre.
The theme of this year's UFF is 'soil'. This theme is a tribute to the living element that provides 95% of the food we eat. The festival will explore this nourishing and natural resource that makes life on Earth possible. Keeping in theme with this, UFF 2023's entire program will feature a fine balance between feasting on Indonesia's diverse cuisine, whilst exploring the most recent gastronomic trends in regard to environmental conservation and sustainability.
Like it has consistently done over the years, UFF 2023 will serve as a forum where local and international chefs, as well as food aficionados, and industry stakeholders can come together to discuss these issues.
"As a source of life, the soil always gives us whatever we ask from it. Miraculously, the seeds we plant always grow and bear fruit. Water flows along soil, protecting all living beings above and below its surface. The land is like a wise spiritual mother. It helps us become aware to maintain balance and life cycles in human nature." — UFF Founder and Director, Janet DeNeefe.
Over the years, the UFF has always offered its visitors something more than just eating food; it also brings forth discussions about sustainability, and this year it will be no different. "The elements of soil can manifest themselves as living beings, and the Ubud Food Festival will showcase to you the connections between the earth as a living being, the source of life with solidarity and taste, along with a celebration, and a reminder just how important it is for humans to protect their soil," said DeNeefe.
The UFF for 2023 will feature Bali's regional flavours and culinary masters, alongside special guests from neighbouring islands. They will all join the line-up to present long table lunches of traditional foods in magical locations, whilst local and visiting chefs will collaborate with Ubud's renowned restaurants. On the topic of food for thought, or festival will include a tempeh-making workshop, presentations on food as part of a healthy lifestyle, and discussions on climate change.
The festival will be a dazzling three-day culinary adventure, offering old favourites, and brave new flavours served with huge doses of inspirational stories. It will also include cooking demos, food tours, lavish lunches, dinners, street foods, as well as talks, workshops, and masterclasses. Of course, there will also be film screenings and live music!
Along with the theme, UFF 2023 presents 'soil' artwork created by the young Balinese artist, Ni Wayan Tiksna Gangga, from Gianyar. Her works have been exhibited at the Titian Art Space Ubud in 2018 and 2020, as well as the Agung Rai Museum of Art (ARMA) in 2019. She also joined a workshop conducted by local jewellery brand, John Hardy, in 2020. Ni Wayan Tiksna Gangga is also the daughter of the prominent Balinese artist Made Griyawan.
According to Gangga, her artwork attempts to respond to UFF 2023's theme not only through its visual images but also through its materials.
"This artwork visualizes the elements of soil, which grow above it like plants, but also what lie beneath it like roots. The material I used to create this artwork came from nature, such as flowers, the rind of fruits and [the Balinese] arrack," said Gangga. "The use of materials in this artwork is based on the Balinese cultural concept of nature, which places importance on a harmonious relationship between human beings and nature. This work also addresses the issue of natural conservation," she explained.
She added that her visual arts collaboration with UFF 2023 to respond to this year's theme has given her a new challenge to expand her creative process.
---
The artwork can be downloaded here.