---
Divine Day Three of Ubud Food Festival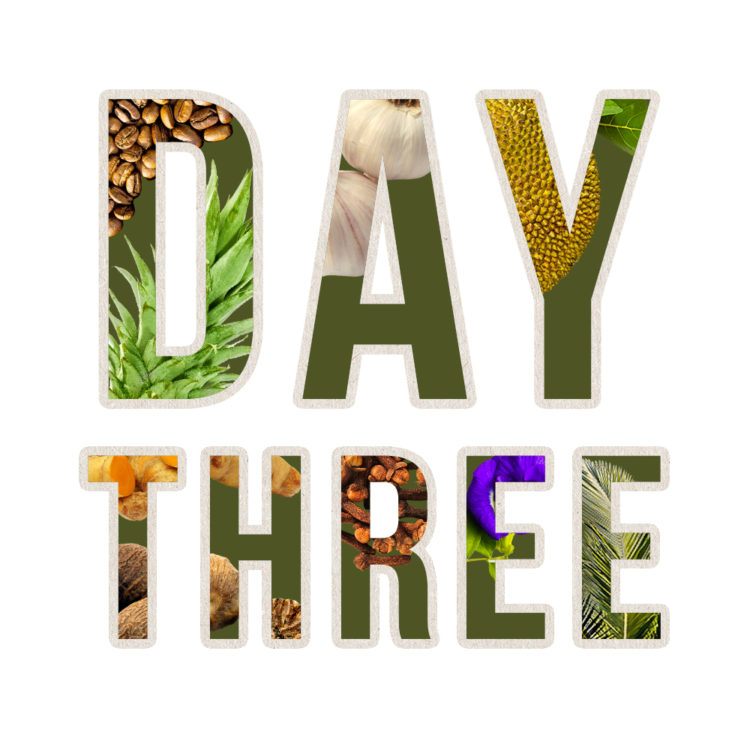 Say it isn't so! The third and final day of the Ubud Food Festival is here, but you better have room for a bounty of tasty bites as Day Three is bursting with fun and flavor! If you don't know where to begin, dig in to our final rundown of the day's most tantalizing tastes, compelling culinary conversation and after dark entertainment.
What did you have for breakfast? Did you plow through a plate of nasi kuning or slurp bubur ayam from a banana leaf? Indonesia has a vast array of sweet and savory breakfasts, so if you're tempted to discover more, join the audience at Teater Kuliner at 10:00 as Jakarta's Fernando Sindu shares his favorites.
The culinary melting pot of Peru is awaiting you at 10:00 at the Kitchen Stage, as one of the nation's most revered chefs Eduard Montes whips up classic dishes from his homeland, including ceviche Andes and arroz con pato (duck with rice). But don't wander too far from the Kitchen Stage, as at 11:30 you can witness why Locavore has risen to the top of Indonesia's fine dining scene with their groundbreaking transformations of local produce.
Later that afternoon social media junkies, or anyone playing the frantic game of F&B socmed marketing, should join the crowd at the Joglo at 13:00 for How to Win Followers and Influence People. Or, for My Kitchen Rules fans, 13:00 at the Kitchen Stage is when you can meet the winners of Season 2, the Spice Sisters Tasia and Gracia Seger, and sample their childhood favorite fried fish.
You know tempe, but are you familiar with oncom, dadih or dangke? Fermentation is one of Indonesia's rich culinary heritages, and at 14:00 at Teater Kuliner, chef Ragil, who is famed for modernizing Indonesian dishes while honoring their legacies, will guide you through some of Indonesia's most intriguing fermented foods.
Could you imagine a world without spices? Neither could we. An unmissable session for spice-loving foodies and history buffs alike, don't miss these four spice specialists – including Michelin-starred Manjunath Mural – as they speak The Language of Spices at the Joglo at 14:30.
Adventurous foodies fond of eating their way across Southeast Asia should nab a seat at the Kitchen Stage at 14:30 to discover Joannès Rivière's unique approach to modern Cambodia cuisine. Cooking in Cambodia for over a decade, join him for a taste of his distinctive Cambodian fare featuring local ingredients.
After the Sambal Smackdown and Cocktail Shakedown, the Black Box Mystery Challenge at 16:00 is the Festival's third and final Kitchen Stage competition, and the Kitchen Stage's grand finale. Three teams representing top Ubud restaurants, one mystery box of local ingredients, and one and a half hours to conjure culinary magic. Those who love experimenting in the kitchen will want to be there when Janet DeNeefe and Spice Sisters Tasia and Gracia Seger choose the winner!
The final Think, Talk, Taste session at 16:00, Stories From Behind the Pass, is the place to be if you've ever worked in a kitchen. Listen in as these Festival favorites, Will Meyrick, Kevin Cherkas, Bo Songvisava, Dylan Jones, Karen Carlotta and Adhika Maxi, plate up the glorious and grueling parts of their profession – revealing what it's really like for chefs behind the pass.
Come and see why Ibu Sisca Soewitomo is Indonesian foodie royalty, at Teater Kuliner's grand finale at 16:00. The Queen of Indonesian cuisine, Ibu Sisca has written over 100 cookbooks and dedicated her 50 year career to nourishing Indonesia's food scene. Come and waltz with her down food memory lane as she creates her Makanan Nostalgia (nostalgic foods). This one's for the child in all of us.
The Festival may be drawing to a close and you're no doubt feeling very full, but there is zero excuse not to join us on the dancefloor to burn off all those calories!* The stirring sounds of Lily of The Valley will help you limber up from 21:30 before our Festival DJs start spinning the beats that are bound to leave you hungry for next year.
*We are firm believers that calories don't count at Ubud Food Festival.