---
Discover Bali's most magical dining destinations at Ubud Food Festival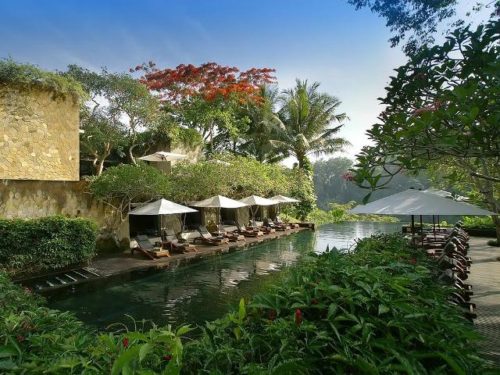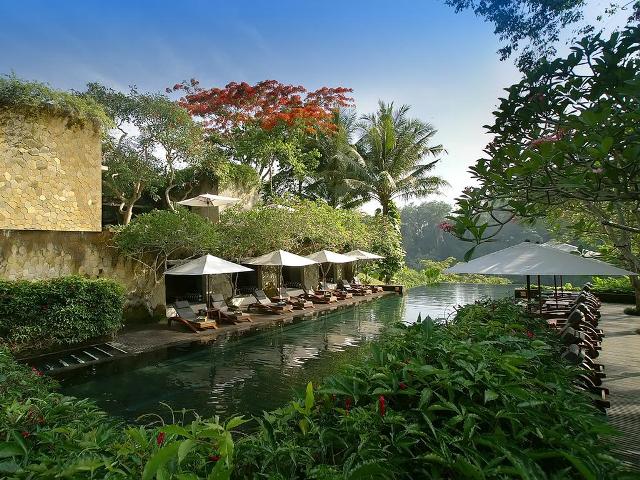 From vivid green rice paddies to palm-fringed valleys, verdant jungles to moss-covered temples, Ubud's landscape is iconic. For Ubud Food Festival we select venues in these tropical dream settings to host Bali's most magical one-off dining experiences. Below is our tasting menu of UFF17 events specially selected for foodies who love a little luxury.
Day 1
After soaking up the sizzling atmosphere of the first day of the Festival – perhaps stopping by the Kitchen Stage to meet the man behind some of Seminyak's hottest eateries, or sampling the signature Sicilian of Lino Sauro, who'll be plating up coffee-coated prawns with buffalo ricotta cream and wild forest honey – you have the choice of two world-renowned locations for dinner, both overlooking the Ayung River.
Twisting and turning for 75 kilometers from the northern mountain ranges, along Ubud's western edge, then into the Badung Strait at Sanur, Ayung is Bali's longest river. At Mandapa, a Ritz-Carltlon Reserve, on a specially-constructed wooden platform nestled among the rice terraces cascading down the Ayung Valley, indulge in modern Balinese and Indonesian cuisine over six lavish courses. The TripAdvisor Traveller's Choice Awards 2017 ranks Mandapa as the second best hotel in the world.
Just 500 meters south lies Amandari, a jewel in the crown of Ubud's luxury resorts. As the setting sun bathes the valley in golden light, settle in for an evening of astonishing cuisine and heart-warming stories. With a six-course tasting menu showcasing local produce, three of Aman's Executive Chefs – hailing from Italy, New Zealand and Australia – will evoke cherished family recipes.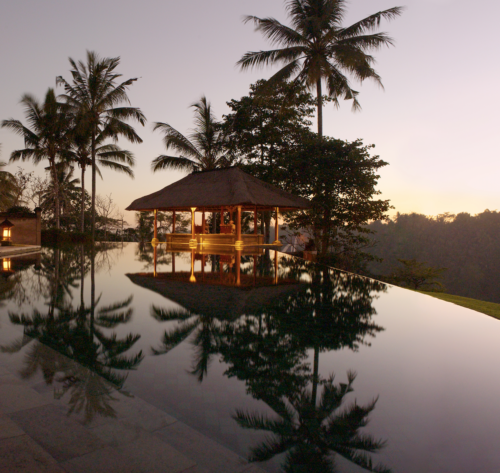 If you're in the mood for flavors from foreign shores in fairytale surrounds, Cambodia is calling to you. On ten hectares of tropical gardens in the eastern edge of Ubud, bordered by the Petanu River and Peliatan's rice fields, rests Maya Ubud Resort & Spa. Here Joannès Rivière, award-winning chef owner of Cuisine Wat Damnak in Siem Reap, will demonstrate his unique approach to modern Cambodian cuisine.
Day 2
The morning of Day 2 of the Festival is Michelin star-studded. Manjunath Mural is the first Indian chef to receive a star for an Indian restaurant in Southeast Asia, and at the Kitchen Stage you can taste his goat's cheese pomegranate and avocado Mumbai chaat, and semolina-crusted barramundi with Mangalorean gassi sauce. Following this, Kevin Cherkas – who  has an enviable track record developed in some of the world's most outstanding Michelin-starred restaurants, including Spain's elBulli and New York's Daniel – will carve up the current trend of transforming humble local ingredients into hyper-modern morsels.
While this lunch may not come with a sweeping valley view, the culinary performance still promises to be spectacular. Watch on as world-renowned restaurateur Chris Salans pairs up with much-loved celebrity chef Farah Quinn for the ultimate kitchen tango. With cocktail in hand, prepare for what is set to be the Festival's most glamorous culinary performance.
As the sun sets on the second day of the Festival, return to the romantic panorama of the Ayung Valley – this time at Alila Ubud, which is often hailed as boasting Ubud's most impressive infinite pool. In their open-air restaurant indulge in five courses of contemporary Indonesian cuisine, prepared by Alila's Executive Chef Erwan Wijaya, and the poster boy of Jakarta's creative culinary scene, Fernando Sindu.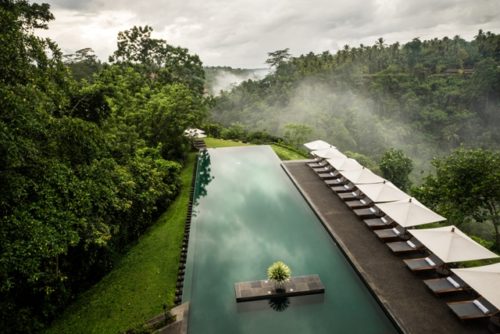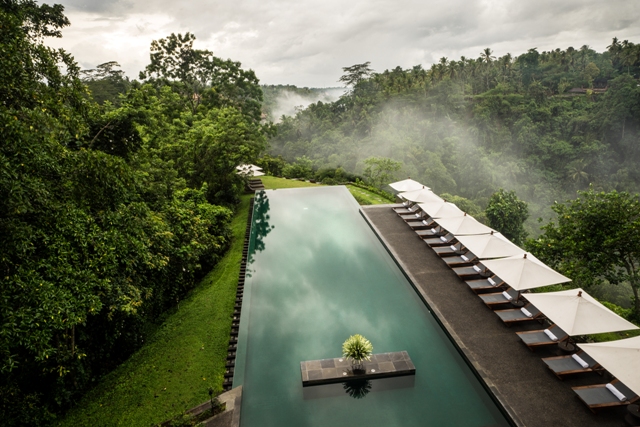 Day 3
Start your final day of the Festival saluting the sun as you gaze out over Campuhan Ridge. If this is your first time to Bali, then you've undoubtedly been captivated by the kaleidoscope of color the constant ceremonies bring to the streets. If you're curious to learn how food fits into the picture, listen in as our culinary guides stir the ever-simmering pot of Balinese ceremonial foods and their spiritual significance.
Like Bali's ceremonial saffron umbrellas, the buzz surrounding Locavore is everywhere. At Asia's 50 Best Restaurants 2017, they received the 'Highest Climber Award' for jumping from no. 49 to 22, and as Indonesia's only list entry, they're our 'Best-In Country'. Bold experimentation with unusual ingredients and fascinating combinations of unfamiliar flavors is one of the reasons they're on top. At the Kitchen Stage you can check out how their new R&D arm LocaLAB is reimagining unlikely ingredients.
It's been a big few days of feasting in fabulous surrounds, so your Festival experience should go out with a bang! How about a culinary collaboration between the two 'Best In-Country' restaurants of the world's two greatest archipelagic nations? Locavore will join forces with Gallery VASK's Chele González, who, at no. 35 on the Asia's 50Best list, flies the flag for the Philippines. Together they'll present a degustation menu which celebrates the locavore movement and evokes each nation's island soul.
Southeast Asia's finest fare in Bali's most breathtaking surrounds – it's at Ubud Food Festival where the most magical dining experiences are to be found.