---
Delectable Day Two of Ubud Food Festival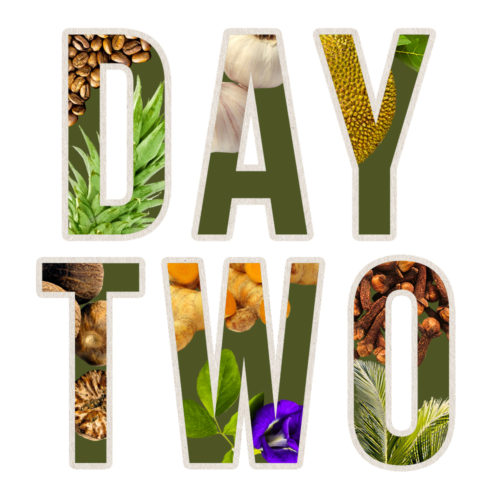 After kicking off the Ubud Food Festival's third year with a bang yesterday, we're ready and raring to do it all again! For those who need a little help to navigate the frenzy of flavors on offer on Day Two, below is our rundown of the most scrumptious sessions, so get your forks and spoons out and dig in!
Jackfruit! It's everywhere, from pizza to paella – its vegan-friendly versatility makes it ripe for experimentation. At 09:00 at the Kitchen Stage MOKSA's plant-based specialists Made Janur and Made Runatha, and Bali Asli's owner and Executive Chef Penelope Williams will teach you how to maneuver the world's biggest fruit.
Coconuts are also popping up in enticing new ways on café menus and supermarket shelves, but did you know Indonesia is the world's largest coconut producer? Over at the Joglo at 10:00, crack open the coconut craze with Ben Ripple, Founder and CEO of Big Tree Farms, along with Indonesia's leading food technologist Professor Winarno.
Who doesn't love a hearty Indian curry? Back at the Kitchen Stage at 10:30 don't miss your chance to try the Michelin-starred masala of Manjunath Mural, as he serves up goat's cheese pomegranate and avocado Mumbai chaat, and semolina-crusted barramundi with Mangalorean gassi sauce. Following this, fancy a trip to the foodie paradise of Manado in North Sulawesi? Then you best take a seat at the Kitchen Stage at 12:00, where Petty Elliott will prove why she's one of Indonesia's culinary heroes with three modern Manadonese dishes.
If you, like us, can't get through the day without at least a couple of caffeine hits, pass by the Kopi Korner on your way to the Joglo at 13:00 for Coffee Country. Indonesia is the world's fourth largest producer and coffee is deeply woven into the nation's social and economic fabric. Join four coffee crusaders as they sip from the bottomless cup of Indonesia's coffee obsession.
Ever had a slice of Papuan sago pizza? No? Are you curious to learn about the foraged foods of the Papuan highlands? Then join the crowd at Teater Kuliner at 13:00, as alongside indigenous food biodiversity frontrunner Helianti Hilman, Charles Toto, the Jungle Chef from Jayapura, will demonstrate the extraordinary versatility of sago, a major staple and revered food source in many regions across the archipelago.
The tourism and culinary status of the world's second largest archipelago, the Philippines, is on the rise, and at the Kitchen Stage at 15:00 you can taste an example of what's on the menu at its top-rated restaurant, Gallery VASK. Chef owner Chele González will introduce you to his 'anthropological cuisine', with aubergine and squid, kwek kwek (a popular Filipino snack), and lambanog (distilled coconut vodka.
Saturday night is swiftly approaching, so what better way to get in the mood than by witnessing the ultimate beverage battle – the Cocktail Shakedown. Representatives from Locavore, The Night Rooster and Kubu will shake, stir, squeeze and pour their way to cocktail kudos. Whose concoction will conquer the rest? Be at the Kitchen Stage at 16:30 to find out!
As the sun sets on Day Two grab a bamboo plate piled high with scrumptious snacks, then get ready to laugh your way through the Indonesian box office hit comedy, Cek Toko Sebelah. Following the film, sway to the unique sounds of Sundanese flute blended with flamenco guitar from Bengras, witness why Balawan is dubbed the 'magic fingers guitarist', and break it down to the acoustic dangdut of Orkes Analog. You can then drift off to sleep dreaming of all the fabulous flavors awaiting you on the final day of the Festival.