---
Fall in love with Indonesian food at Ubud Food Festival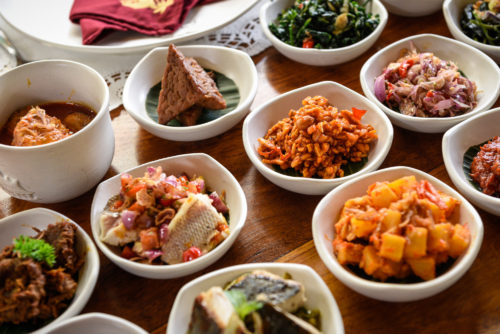 "One nation, millions of flavors," said Bondan Winarno, father of Indonesian food writing. As the world's greatest archipelagic nation – 6,000 of its 17,500 islands are inhabited – it's fair to say Indonesia's myriad cultures and their respective cuisines are among the most diverse in the world. So with millions of flavors, where to begin?
At Ubud Food Festival there's a feast of opportunities to discover the archipelago's dizzying diversity of traditional dishes, drinks, sweets and snacks, alongside imaginative interpretations of old favorites. Below is our tasting menu of UFF17 events specially selected for adventurous foodies eager to explore Indonesia's countless cuisines.
Day 1
An insightful conversation inspired by the Festival's theme 'Every flavor is a story' is the perfect way to commence your culinary journey of discovery. Join Founder & Director Janet DeNeefe alongside star UFF 2017 speakers as they welcome you to the Festival and share their most sumptuous stories. After your caffeine fix and a sweet treat or two at Pasar Kuliner, pull up a seat at Teater Kuliner for a sip of jamu, the nation's number one health tonic. Over at the Kitchen Stage the 'walking dictionary' of Indonesian street food, Arie Parikesit, will share his wealth of wisdom about rare and regional cuisines, before four culinary storytellers carve up the nation's fieriest food fads.
Did you know Indonesia is the world's third-largest cocoa producer? Relying solely on your sense of smell, learn to differentiate cocoa beans from Bali, Aceh, Flores and East Java (tastebuds will be put to the test too, of course.) Wickedly funny tales and priceless local knowledge will then await you at the Joglo, as the hard-working heroes of the island's street food scene are honored at Bali's Warung Wonder Women.
For those who like it hot, the essential spot is over at the Kitchen Stage for one of UFF's most-loved events, the Sambal Smackdown. It's almost impossible to imagine Indonesia without the spicy condiment, which comes in countless varieties and is a crucial accompaniment to dishes throughout the day. This year local chefs will go head to head with international chili fiends for the Word Series. Later that eve, scour Gianyar's sprawling night markets for the tastiest bites with Gede and Ayu Gayatri Kresna, a North Balinese couple who create flavor experiences combined with mindful consumption.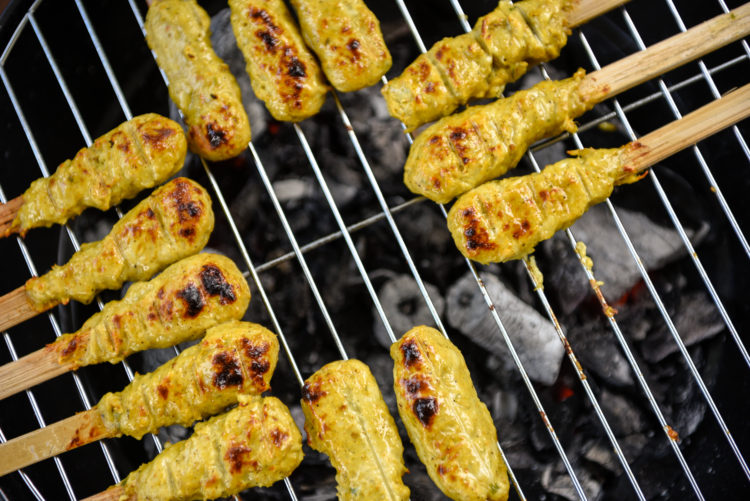 Day 2
Bubur (porridge) is a popular breakfast in many parts of the archipelago; from savory bubur ayam (silky rice porridge topped with chicken, boiled egg and various trimmings) to sinfully sweet bubur kacang hijau (mung beans stewed in coconut milk laced with palm sugar), and bubur ketan hitam (earthy, nutty, sticky black rice). Bali's version is a creamy combo of coconut milk-rich rice spread with tangy sauce and salty sambal, then sprinkled with soy bean sprouts. At this morning Masterclass you can tuck into bubur Bali while learning the basics of Bahasa Indonesia – enak sekali will roll off your tongue in no time.
For those eager to dig deeper into Bali's bounty of natural remedies, the Food as Medicine hands-on cooking class with Janet DeNeefe and naturopath Lola Taylor will explore the medicinal properties of turmeric, ginger, galangal, coconut and other nutritious ingredients. Come lunchtime the Kitchen Stage will waft with mouth-watering aromas of modern Manadonese cuisine. Capital of North Sulawesi, Manado is home to some of the nation's fieriest fare. Pioneering food writer Petty Elliott will return to her Manadonese roots with ikan gohu (Manadonese ceviche), Manadonese risotto and klapertaart (young coconut pudding).
If you're in need of post-lunch pick-me-up join our caffeine crusaders as they sip from the bottomless cup of Indonesia's coffee obsession, while over at Teater Kuliner, Charles Toto, the Jungle Chef from Jayapura, Papua, will share the secrets of sago, an important staple for many different groups across the archipelago.
Later that afternoon join the above-mentioned Bondan Winarno to celebrate the launch of his new book 100 Best Foods of Joglosemar (Jogja-Solo-Semarang) – then ply him for street food tips, naturally. Polish off your delicious day of discovery by grabbing a banana leaf and piling it up high at the Festival's Night Market, Pasar Senggol, a frenzy of Indonesian street food.
Day 3
The morning traditional market tour and cooking class combination is an essential part of any foodie getaway. Wander the vibrant Ubud Market guided by the team of Mr Wayan Restaurant, then try your hand at local dishes before a three-course lunch by the rice fields. At the Hub you can discover a banquet of Indonesian breakfasts with the poster boy of Jakarta's creative culinary scene, Fernando Sindu, or listen in as four culinary guides stir the ever-simmering pot of Balinese ceremonial foods and their spiritual significance.
For lovers of local wisdom and culinary history, there's no finer lunch location than in the stunning surrounds of Manisan, where one of Indonesia's most revered culinary icons, William Wongso, will showcase five courses from North Bali's Singaraja region. For those who've remained at the Hub, chef Ragil will introduce you to a curious array of Indonesia's fermented foods, before the Queen of Indonesian cuisine, Ibu Sisca Soewitomo, will waltz down memory lane with her Makanan Nostalgia.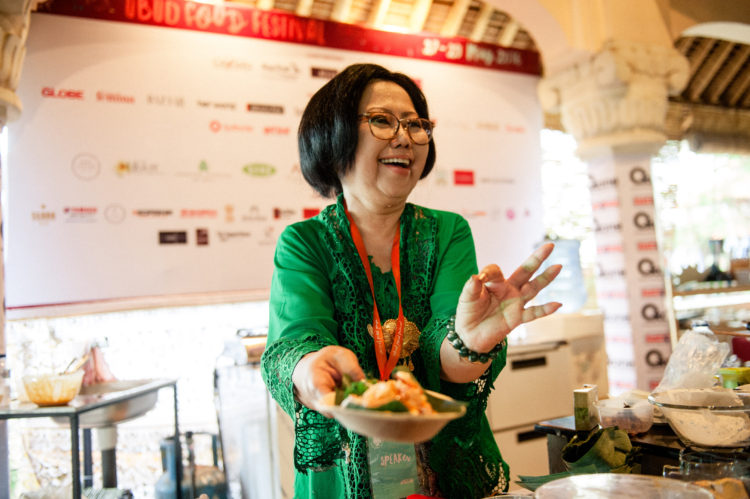 As the sun sets over Campuhan Ridge, regale your foodie family with your treasured Festival moments over a few plates of your new favorite Indonesian foods. As you'll now know, the cuisines of the archipelago are as diverse as the nation itself – and there's no better place to fall in love with Indonesian food than at Ubud Food Festival. Selamat makan! Happy eating!