---
UFF17 Special Events: The ultimate foodies' guide to town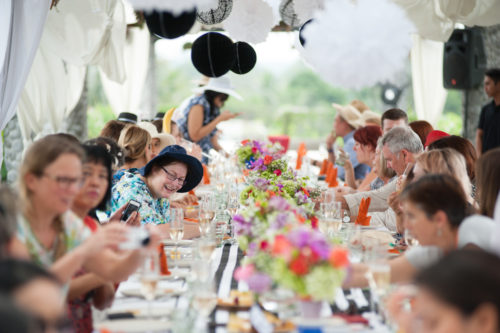 From lavish long-table lunches overlooking the valleys, jungles and rice paddies of Ubud, to enthralling culinary collaborations between Southeast Asia's top chefs, the UFF17 Special Events put the best of Bali on the table. But they're not just about eating exceptional food in extraordinary locations; we challenge venues to weave the Festival's theme 'Every flavor is a story' through their menus, giving diners a richer appreciation of not just what's on their plate, but what motivates and inspires the people who created it.
The UFF17 Special Events are one-off experiences for discerning foodies who love to dig deeper, and with so much on offer, we've pulled together some of our most tempting menus being held across Ubud's most celebrated restaurants and bars to make it easier.
Thursday 11 May: Get prepped!
Your chance to rub shoulders with the stars of the UFF, the VIP Opening Night Party is the perfect way to commence your culinary adventure. Have a tipple and nibble canapés as you soak up the twilight over Campuhan Ridge, and rub shoulders with your culinary heroes.
Friday 12 May:
Lunch
Who sparked your passion for experimenting with seasonings and spices? Who taught you how to knead dough, slice an onion, and peel garlic? Was it your mother, or perhaps even your grandmother? On the first day of the Festival, in the charming atmosphere of Casa Luna, From the Heart with Founder and Director Janet DeNeefe, Spice Sisters Tasia and Gracia Seger and Indonesian culinary pioneer Petty Elliott will recreate the recipes and share stories of the remarkable women who inspired their lifelong love of cooking.
Dinner
MOKSA is Bali's plant-to-plate heaven, and over four courses of the finest vegetarian fare at Savor the Flavor of Creativity, chef Made Runatha will prove why he's Ubud's king of plant-based perfection. As the island's cultural and artistic heartland, Ubud is home to thousands of artists and craftspeople producing unique works, both beautiful and functional. Ceramics are particularly prized, and Gaya Ceramics are among Bali's finest. Chef Made's exquisite morsels will adorn the creative works of Gaya Ceramic's Art Center Culinary Clay program.
Dinner
For those who prefer to wash down a decadent dinner with a perfectly paired beer – that's right, beer! – Craft Beer is Here is your prime contender. Beervana, distributors of the world's most distinct microbrews, have teamed up with Bisma 8 for a craft beer connoisseur's dream dinner: six courses created by Copper's Ben McRae and Yannis J. Janssens, Executive Pastry Chef of Robuchon Bangkok Group. Tickets are going fast, so you better hops to it.
Saturday 13 May:
Lunch
If you've chomped into chargrilled satay, relish a good rendang and don't mind a bit of gado gado then you're already acquainted with Indonesian food – but this is only the beginning. The cuisines of the archipelago are as diverse as the nation itself, and there's no finer way to sample an array of bold flavors and toothsome textures than with a 13-course Rijsttafel (Dutch for 'rice table'). This is not a regular rendition of the time-honored culinary tradition, however, as at Risttafel, Red, Rosé, Sparkling and White, bridges' sommelier will match citrus, plum and earthy aromas to the Indonesian palate.
Dinner
'Alila Ubud' are two words which conjure an iconic Ubud dreamscape: verdant valley replete with infinite pool and gamelan drifting in on the breeze into the ultimate open-air restaurant. Follow your culinary journey across the archipelago with the best of creative, contemporary Indonesian cuisine from the hands of Fernando Sindu and Erwan Wijaya – two of its leading proponents. At Contemporizing Culinary Tradition each of their five courses will be as spectacular as the surrounds.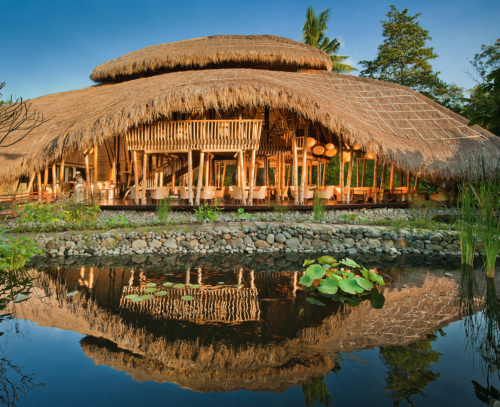 Sunday 14 May:
Lunch
With the staggering number of chefs dishing out mountains of tasty mouthfuls at the Kitchen Stage and the lavish spread of Special Events, we understand if by Day 3 of the Festival you're feeling a little full. Perhaps it's time for a meander over to Mambal just five kilometers south-west of Ubud, to stretch your legs while admiring the elegant curves and arches of Fivelements' acclaimed bamboo architecture. Here you can discover The Power of Coconuts with a workshop lead by Joao Ricardo Alves, followed by a three-course tasting lunch starring the luscious and versatile superfood.
Dinner
Indonesian history was made at this year's S. Pellegrino & Acqua Panna Asia's 50 Best Restaurants Awards, as Locavore, skyrocketing from no. 49 to no. 22, received the title of Highest Ever Climber. They're also Indonesia's only entrant on the list, and so they're 'Best In-Country'. The Philippines 'Best In-Country' is Gallery VASK in Manila, and its Spanish-born chef Chele González is good buddies with Locavore's Eelke Plasmeijer. At Archipelago Amigos, they'll be cooking up a five-course monsoonal storm which celebrates the locavore movement and the island soul of the world's two greatest archipelagic nations.
This list doesn't even cover half the Special Events on the UFF17 table. If we've managed to whet your appetite for one-off dining experiences which deepen your understanding of not just what food tells us, but of the stories we tell through food, then you better dig in to our full range here.