---
Want to Eat Your Way Across Indonesia? This is Your Ultimate Ubud Food Festival Schedule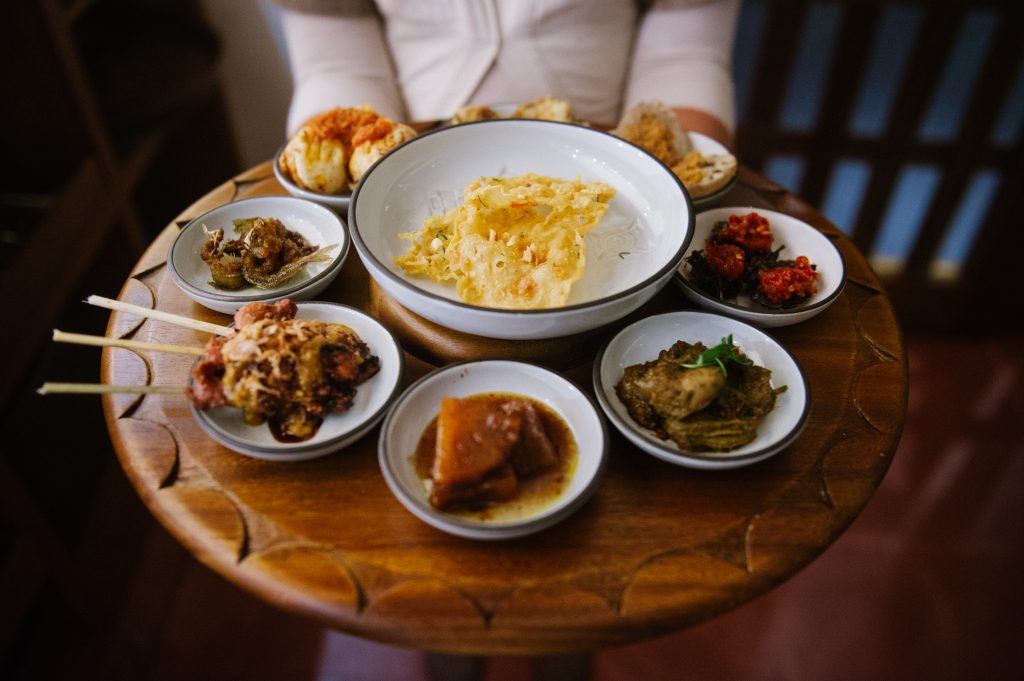 Acehnese, Balinese, Bandanese, Batak, Betawi, Manadonese, Moluccan, Sumbanese, Papuan… It's true Indonesia's culinary cultures are as diverse as the nation itself. These are just some of the Indonesian cuisines you can explore at Ubud Food Festival 2019 Presented by ABC. For those craving a culinary adventure across the archipelago, we've compiled your ultimate Festival schedule.
Friday, 26 April
Teater Kuliner: Durian and Spice and All Things Nice
10:00-11:00
Durian lovers: don't miss young Balinese culinary innovator Tri Sutrisna getting crafty with the king of fruit. Using the traditional method of timbungan (cooking inside bamboo), he'll blend Balinese spices and sweet local durian with fresh fish line caught in Northeast Bali. For the brave he'll serve it with Balinese durian mayonnaise!
Kitchen Stage: Modernizing Sambal
11:00-12:00
Culinary teacher and self-taught chef Petty Elliott has pioneered a contemporary approach to Indonesian cuisine. Taking classic Indonesian ingredients such as kecap manis and kemangi, and spicing it up with green chili sambal and pineapple sambal, she'll create mouthwatering modern dishes – such as tuna tataki – which you can easily whip up at home.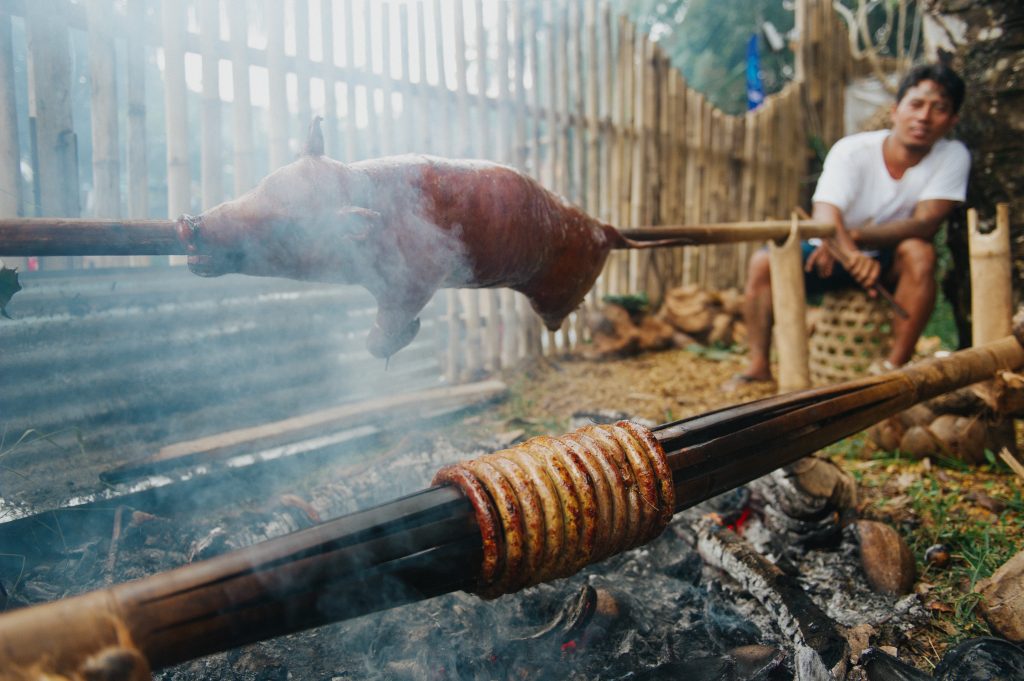 Teater Kuliner: Cooking in Bamboo
13:00-14:00
Combining family recipes passed down through generations with high-quality local produce, Ayu Gayatri Kresna is passionate about preserving North Balinese cuisine and introducing it to the world. With this demo she'll explore other islands too, and cook everything in bamboo: ayam timbungan (Bali), tu-in ayam (Maumere, Flores) and pa'piong (Toraja, Sulawesi).
Food Tour: Gianyar Market's Best Bites
16:30-19:30
For adventurous foodies, there are few greater pleasures than scouring sizzling night markets for the tastiest local specialties. Local culinary guide Pak Puriana will wander with you through the region's biggest night market, Pasar Gianyar, leading you straight to all the best bites.
Special Event: Amandari's 30th Anniversary
19:00-22:30
UFF presents unrivaled opportunities to explore elevated Indonesian cuisine, and there's no finer venue at which to do so than Amandari (just look at that view). Jakarta's culinary star Fernando Sindu, Amandari's Executive Chef Reynaldo DeLuna II, and AMAN's Regional Chef Shane Lewis join forces for a 30th Anniversary dinner of inspired Indonesian followed by divine desserts and jazz.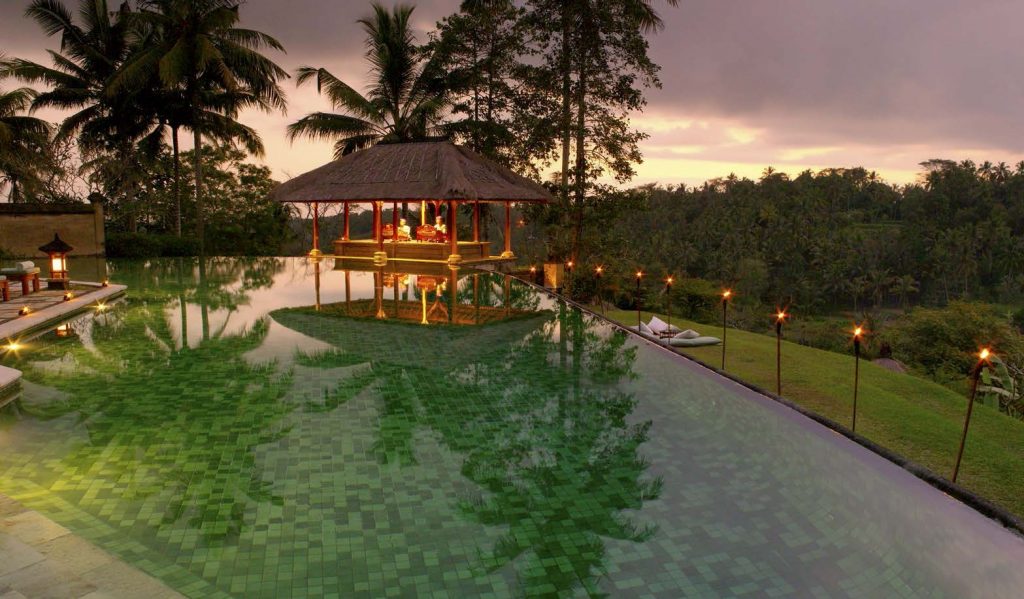 Saturday, 27 April
Food Tour: Culinary Jalan-Jalan
06:00-09:00
Join our intrepid food guides on a walking tour to the home of Ubud's famed suckling pig, Ibu Oka's. After kopi Bali, meet Pak Rimpin, the master of bebek betutu (spiced braised duck), and Pak Sanur, the don of betutu ayam (spiced braised chicken). Polish it off with a Balinese breakfast of champions at Casa Luna.
Teater Kuliner: Fresh from the Future Farmers
10:00-11:00
Chef I Ketut Buda is a farmer who goes back to nature for cooking, which is why he created Future Farmers, a collaborative organic farm in East Bali. With ingredients grown on his farm, he'll share three dishes inspired by rural Balinese home cooking: ayam bakar bumbu kecombrang, sambal goreng, and urap kejelongkot.
Food for Thought: Putting Indonesia on the World Food Map
14:00-15:00
A new generation of Indonesian chefs is working hard to put Indonesian cuisine and its culinary scene on the world food map. From celebrating regional recipes in Bali to contemporary eats in the capital, these savvy young chefs will share their plans, challenges, and hopes for the future of makanan Indonesia.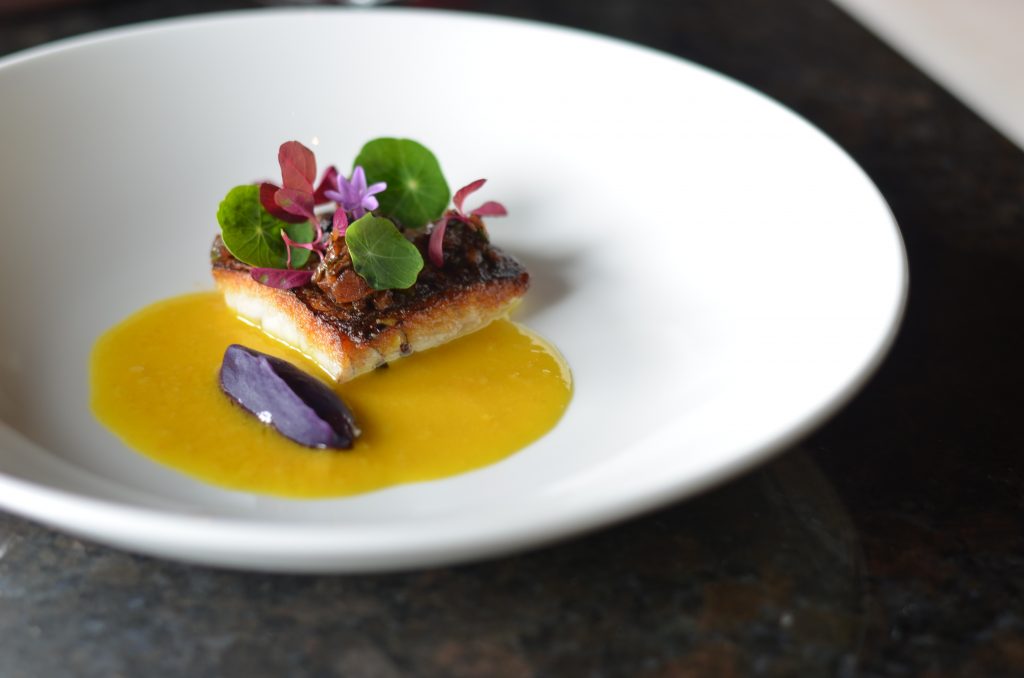 Kitchen Stage: Bali's Culinary Star
17:00-18:00
Named Chef of the Year at Bali's Best Eats 2018, Wayan Kresna Yasa is one of the island's brightest culinary stars. For those who adore seafood plush with zingy, piquant flavors, this demo is essential. Chef Wayan will prepare Pindang Kecombrang: braised pompano with spicy chilli and torch ginger flower sauce.
Special Event: Molecular Magic
16:30-21:30
Adhitia Julisiandi is Chef de Cuisine of celebrated contemporary Indonesian restaurant, 1945. In collaboration with bridges' Chef Wayan Sukarta, he'll share his molecular gastronomy flair and passion for local produce over six courses in the alluring atmosphere of bridges. This is Indonesian fine dining at its most innovative, elegant and surprising.
Sunday, 28 April
Food Tour: Keliki Tofu Makers
10:00-12:00
Keliki village is renowned for its unique style of painting. However, not many know this hilly village north of Ubud also produces traditional tofu. Join our short tour to learn about the process, then stop by the Keliki Painting School. Don't forget to support the tofu makers by taking home a bag of fresh tofu!
Kitchen Stage: Gohu Ikan – Indonesia's Ceviche
12:30-13:30
It seems in the cuisines of almost all seafaring nations there is at least one raw fish dish (did you try Jordy Navarra's kinilaw yesterday?). A familiar face on Asian Food Channel, Chef Rinrin Marinka will share gohu ikan, a zingy mix of fresh raw fish, lime juice and chilli from North Maluku.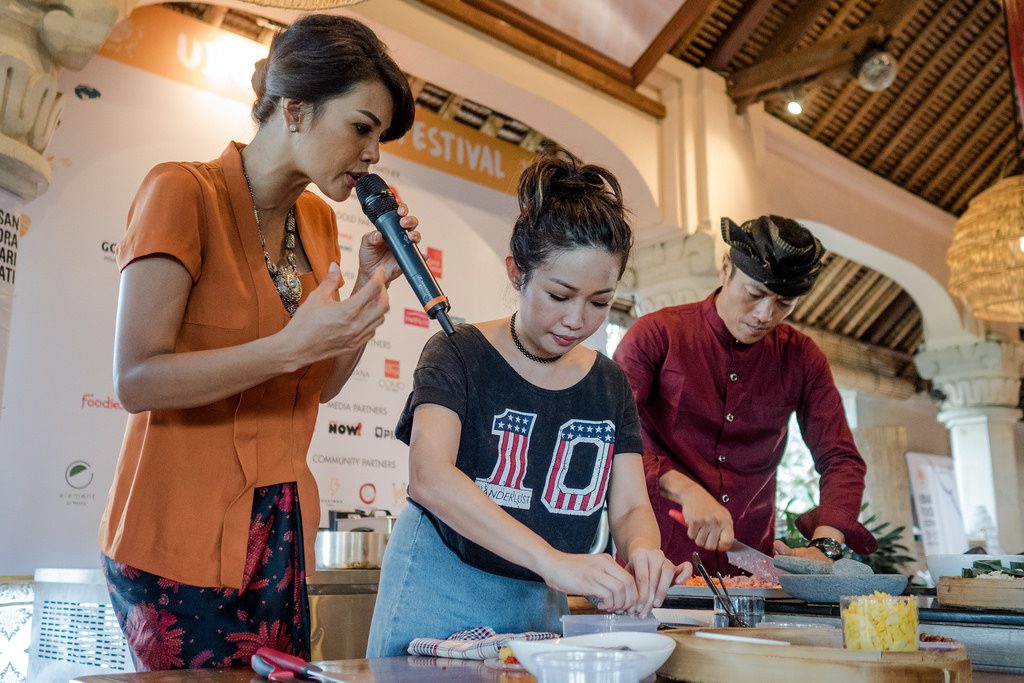 Teater Kuliner: Aceh's Legendary Kopi Sareng
14:30-15:30
The coffee houses of Aceh are the stuff of legend, and kupi sareng, the sweet dark brew strained from a height, is a major part of Aceh's culinary legacy. As is martabak mesir, its signature thin and crispy martabak. Join the Aceh Culinary Festival team for a tasty tour of this spice-rich region.
Food for Thought: Sekala Niskala in the Kitchen
15:30-16:30
In traditional Balinese homes the kitchen is separate from the main house, and if not, it must be at a higher level. For Balinese the kitchen is sacred, and dishes produced within are imbued with spiritualism. From the fundamental spice blends to communal cooking, follow our culinary guides through the spiritual side of Balinese food.
Special Event: Taste the Archipelago at the World's Best Hotel
19:00-22:00
Four Seasons Resort Bali at Sayan was voted World's Best Hotel by Travel + Leisure last year, so it's a fitting venue for Ragil Imam Wibowo, named Chef of the Year at Jakarta's Best Eats 2018. Along with Four Seasons' chefs he'll create six courses representing the major islands of the archipelago.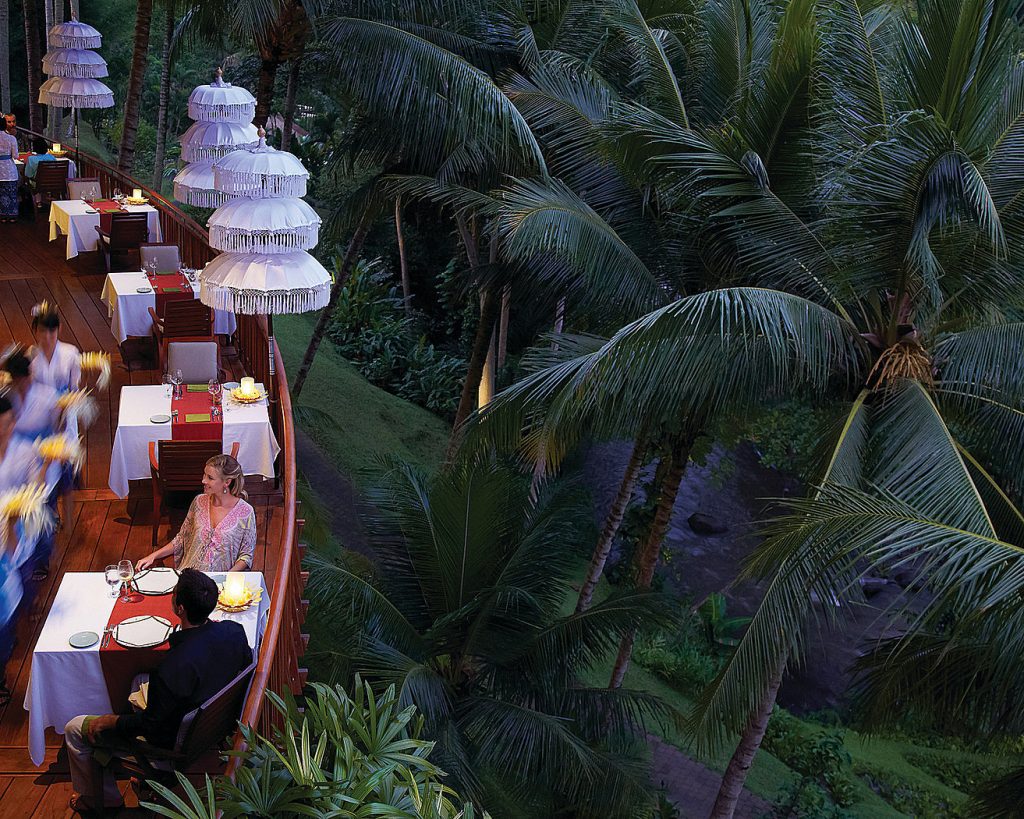 Don't forget, all Teater Kuliner and Food for Thought sessions are absolutely free! Special Events and Food Tours tickets can be purchased from the individual event pages. The best way to experience the Kitchen Stage is with a FoodLover Pass. Snap yours up now.